Huntington's 151st Commencement Exercises Friday at 6 p.m.
An honor guard will lead Huntington High School's Class of 2012 into Blue Devil Stadium at 6 p.m. Friday night for the school's 151st commencement exercises. A crowd of more than 2,000 is expected to attend.
The ceremony will include traditional addresses by valedictorian Juliana Coraor and salutatorian Justin LoScalzo along with Principal Carmela Leonardi, Superintendent James W. Polansky and Huntington School Board President Emily Rogan.
A number of seniors will take leading roles in the event. Joseph Straub will serve as master of ceremonies. Kristina Casale will sing Francis Scott Key's Star Spangled Banner.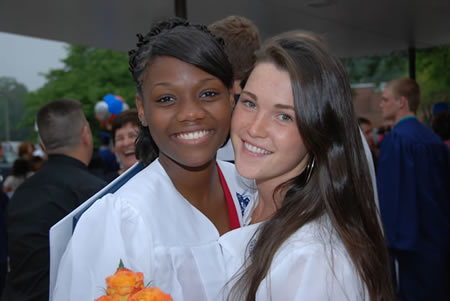 Seniors Natalie Acton, Kaja Coraor, Madison Biernacki, Joseph Straub, Haley Brown and Brielle Blatt will introduce various officials prior to their addresses. Class of 2013 faculty advisors Camille Tedeschi and Erik Bruckbauer will announce the names of the graduates as they make their way to the stage.
A school band consisting of underclassmen under the direction of teacher Jason Giachetti and Brian Stellato will perform processional and recessional selections.
Class of 2012 President Samantha Palmer will announce the presentation of a gift to the high school. School Board members will present the seniors with their diplomas.
In case of inclement weather, the ceremony will move indoors to the cavernous high school auditorium.