Lauren Boyce is Masterful at
Goal Achievement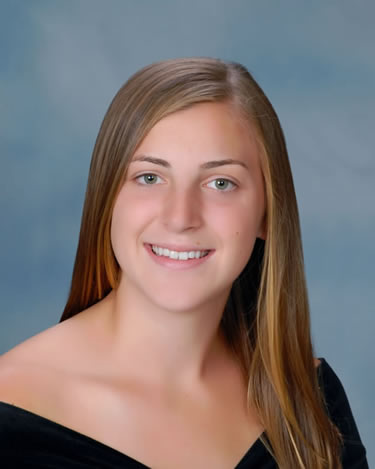 Lauren Boyce is headed to Ohio State University in the fall. The Huntington High School senior is well prepared for the challenges that await her on the Columbus, Ohio campus. She's one of the top scholars in the Class of 2012 and a leader among her classmates.
Ms. Boyce has been a Huntington student since kindergarten and has dived into many of the district's academic and co-curricular programs. "I have enjoyed the last four years and I've enjoyed all of the opportunities Huntington High School has offered," the teenager said. "I have had a wonderful experience here."
Amazingly, Ms. Boyce has been involved in way one or another with more than 15 clubs, sports and activities. Where does she find the time to do it all? It starts with being an expert at time management and prioritization and includes an impressive ability to set personal goals and do whatever is required to accomplish them one-by-one.
"From drama club with Schwendy in ninth grade to being co-president of Grandfriends and AWOD in twelfth grade with Mrs. Biagi, I've had quite the adventure," Ms. Boyce said. The senior has not only enjoyed strong relationships with teachers-faculty advisors Michael Schwendemann and Suzie Biagi, but with every other teacher she has crossed paths with, too.
The senior is deeply involved in community related initiatives and fits the definition of a humanitarian. But, she cannot be easily typecast. She's an athlete, a musician, a scholar and a loyal friend, among many other talents and personal qualities.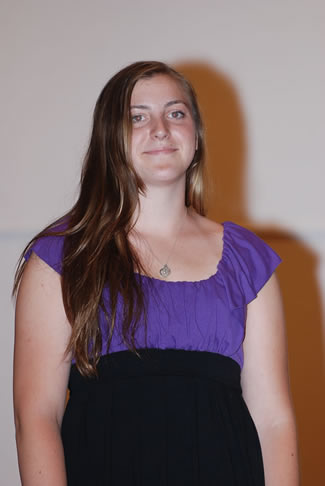 From building houses with Huntington's Habitat for Humanity club chapter in areas devastated by natural disaster to spending fall nights and weekends practicing and performing with the Blue Devil marching band, Ms. Boyce's four years of high school have been crammed with an assortment of highlights.
"Lauren is a hard working, dedicated and driven individual," said classmate Justin LoScalzo, salutatorian of the Class of 2012. "She always puts forth 110 percent in everything she does, and always accomplishes anything she puts her mind to. She is well liked by her classmates and has a great sense of humor. I know she will be very successful at Ohio State University."
Ms. Boyce takes special pride in her work as a member of Huntington High School's Relay For Life student organizing committee. The event raised more than $128,000 for the American Cancer Society and brought many segments of the school community together in one of the most powerful and emotional group experiences in recent memory.
The senior is co-president of AWOD (A World of Difference) and GrandFriends, secretary of the Math Honor Society and the Gay-Straight Alliance and recycling coordinator of the Science Honor Society. She's also had a hand in countless other organizations and activities at the school.
Ms. Boyce plans to major in speech and hearing science at Ohio State with an ultimate goal of becoming an audiologist. If the past is any guide, the senior will pursue this goal with the same tenacity and steely determination she's utilized to realize all of the other objectives she has established.
"My advice to an incoming freshman would be to take advantage of all of the clubs and activities Huntington has to offer," Ms. Boyce said last weeked. "Not only will they help you get into college, but you will make memories that will last you a lifetime."