Aftershock Rocks Woodhull School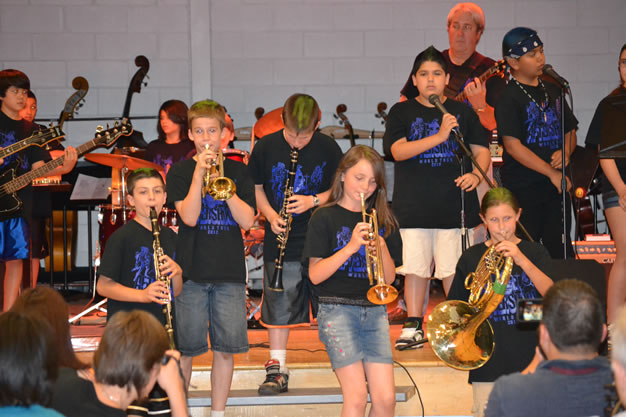 Woodhull School has some budding rock musicians and singers in its ranks. The School of Rock club recently put on display a variety of unique talents and showcased a group of students who love to make music and have a good time.
The club is led by teacher Paul Esposito, who meets with students throughout the year, teaching, tutoring and nurturing them, while shaping the group into a functioning band. Students rehearse a set of songs and perform for their classmates each June. This year marked the ninth annual installment of the club since the School of Rock was first created at Huntington Intermediate School.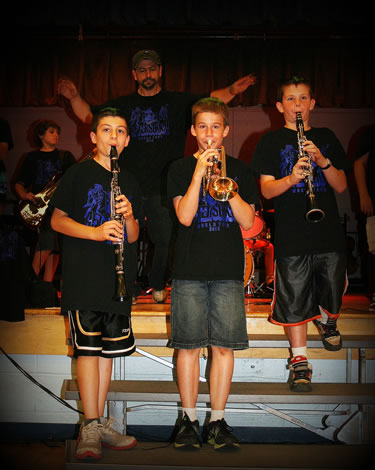 The 2012 band, which goes by the name of "Aftershock," performed a six song set and members really seemed to enjoy themselves along the way. The band took to the stage during the day for students and teachers and put on an evening show for parents and other family members. The band's name is credited to bassist Mike Colon. It was chosen from among several submitted by the band members.
This year's band included Alex Cartwright (guitar), Christina Varady (guitar), Nick Earle (guitar), Chris Piazza (keyboards), Mariano Luna (drums/percussion/vocals), William Fallon (drums/percussion), Nick Sanin (drums/percussion), Adina Kirkland (French horn), Tim Earle (trumpet), Joseph Dammers (clarinet/vocals), Peter Ciccone (clarinet/vocals), Kristen Tate (trumpet), Mike Colon (bass), Kyle Chin (bass) and parent bass guitarist Mark Dara, plus singers Sarah Levine, Dennis Gudiel, Andrew Alvarado, Zenia Dia, Sarah Nezhadpour, Erica Vazquez and Myasia Gaskin.
Aftershock performed songs by The Who, Hootie And The Blowfish, The Beatles, Van Halen, Bruce Springsteen And The E Street Band and an original composition by Mr. Esposito.
Student-musicians sometimes roamed the audience with moves like Mick Jagger, as they used wireless microphones and showed off their 'Guitar Hero' chops. The horn section even left the stage for a bit and headed into the crowd. "Teachers and staff were thrilled by the students' performance," Mr. Esposito said. "It's been a spectacular year. I wish that we could jam every Thursday forever."
Parent Mark Dara provided Mr. Esposito with musical assistance. Mr. Dara, a local musician whose daughter, Katy was in the School of Rock band in 2011 and whose son, Rory will be attending Woodhull next fall, played bass guitar during Aftershock's performances to fill out the band's sound.
Prior to Aftershock's show, the Mr. "E."- Street Band performed. Featuring Mr. Esposito as the group's flamboyant front man on vocals, Dan Sandoval and Rob Cohen on guitar, Mark Dara on bass and Rob Lindner on drums, the adult band pumped up the crowd.
Aftershock's evening performance for parents and family members, included raffles and the sale pizza, which raised $800 to be used for the club's equipment, instruments, microphones, etc.
School of Rock members are able to explore and experience music in a unique way. They have an opportunity to learn what they really like and dislike and then work on refining their talent. The entire club eagerly anticipates the series of spring concerts, which classmates and parents thoroughly enjoy.
It's been nearly a decade since that first School of Rock club meeting. Mr. Esposito said hopes the club is a permanent fixture at Woodhull. The concerts each year ignite new interest in the club from students watching the shows.
The School of Rock is open to sixth grade students and anyone who sings or plays any instrument is welcome. Students must know how to play their instruments before joining the club. Weekly rehearsals run from October to June. The club's concerts have become legendary for their sound and the energy produced by the band and audience.
Contact Mr. Esposito (pesposito@hufsd.edu) for more information about the School of Rock.