Alum's Freshman Year an Eye Opener
Danni Cerezo was such a positive force around Huntington High School that teachers and underclassmen were really sorry to see her graduate last June. But, it was time for the teenager to move on and she was excited to be starting college.
Back in town following the completion of her freshman year, Ms. Cerezo is reflecting on the time she spent at SUNY Geneseo, which bills itself as New York's public honors college. The school, located 30 miles southwest of Rochester, considers Colgate, Hamilton, Cornell, University of Rochester, Boston College, New York University, Villanova and Binghamton University to be "peer institutions."
"Life at Geneseo was a huge eye-opener for me," said Ms. Cerezo who participated with fellow Class of 2011 alums in last weekend's Relay For Life at Huntington High School. "I've learned so much in the past year, both about my studies and about myself. I really found a niche that I fit into and loved. I actually decided this past semester that I was no longer interested in studying biology and plan on pursuing a degree in business administration instead."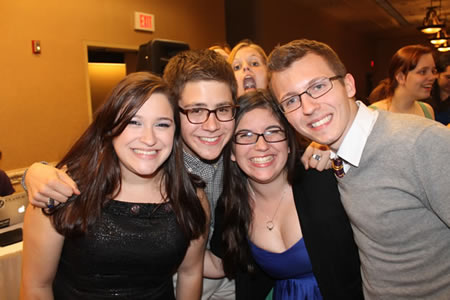 Established in 1871, Geneseo has a full-time undergraduate enrollment of 5,347 on its 220 acre campus. Ms. Cerezo has been on-the-go at the school with an active schedule of activities. "Outside of class, I am incredibly busy with my co-ed service fraternity, Alpha Phi Omega," the Huntington grad said. "It is a really wonderful organization and I consider pledging to be one of the best decisions I've made since starting school. The service work I do with APO is so fulfilling and rewarding and I've made some of my closest friends through the fraternity."
Ms. Cerezo currently serves as Alpha Phi Omega's historian and she also works with several service committees. "I really miss Geneseo and all of the people there, but being home for the summer is definitely a welcome break," she said.