Grandfriends Assist at
Rotary Golf Outing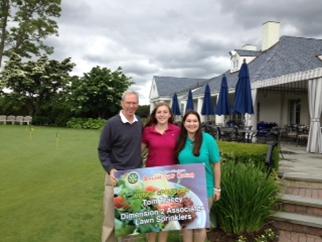 The Huntington Rotary Club has always been there to financially support the Huntington High School Interacting Grandfriends Club, so it's only natural that a contingent of Grandfriends helped out at the Rotary's annual golf outing.
"What a way to end the year, setting up tee advertisements, networking with local business professionals, registering dozens of foursomes to play golf and spending time with the very people who have sponsored our club for the past four years," said Huntington business teacher Suzie Biagi, who is the Interacting Grandfriends' faculty advisor along with retired high school librarian Camille DeCanio.
Among the students helping out was senior Lauren Boyce, who was the recent recipient of a $3,000 Rotary scholarship. "It was a great way to pay back these wonderful people," senior Richard Morris said. "The money they raise with this outing supports not only some of our activities with the senior citizens in the community, but dozens of local agencies in Huntington. It was so much fun. Even though it was a cold and windy day, we had fun just helping out!"
The Huntington Rotary Club was founded in 1925. "The membership of our club is a broad mix of community business and organization leaders," states the group's website. "We pride ourselves on a long tradition of community service and strong fellowship between and among members of our club and other community groups." The Rotary holds its lunch meetings at Mac's Steakhouse on Gerard Street.