Red Tickets Get Washington
Students Honored
There's something about the students at Washington Primary School. They're an unselfish group of youngsters who are just as happy to congratulate a classmate that wins an award as they are to win it themselves. They are really something special.
Principal Marsha Neville recently announced the name of one student in each class who was selected as the May honoree in the school's Washington Ways program. The Red Ticket award winners included Daniela Merlos-Campos, Kaylee Splendorio, Jackson Rosario, Christopher Grover, Jack Feldman, Hingri Ayala, Josh Redick, Rebecca Moraga, Brendan Rubery, Madeline Poulis, Nathali Ulloa, Marques Gaskin, Natalie St. Ours, Estefany Villegas-Elias, Amanda Fuentes-Reyes, Kyle Green, Nebil Oumer, Anna Wickey, Kyle Perea and Daniela Aparicio.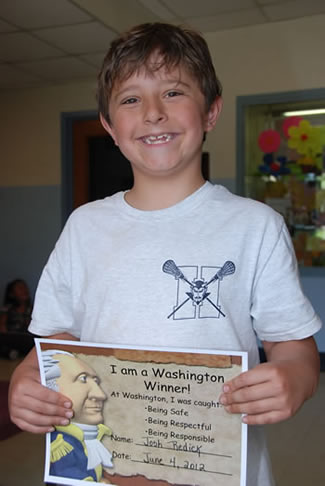 The second grade class of teacher Suzanne Knoerzer and the afternoon kindergarten class of teacher Melissa Lang were recognized as the Blue Ticket classes for May.
"All of our May student honorees and award winning classes deserve congratulations for a job well done," Mrs. Neville said. Washington's student body evidently agreed with the sentiment as the youngsters cheered for their classmates.
The Washington Ways initiative was developed to recognize and reward positive behavior while encouraging students to be safe, respectful and responsible around school and on the bus each day. Students are given various colored tickets by teachers and support staff members for exemplary behavior. The tickets can be presented to the youngsters throughout the day.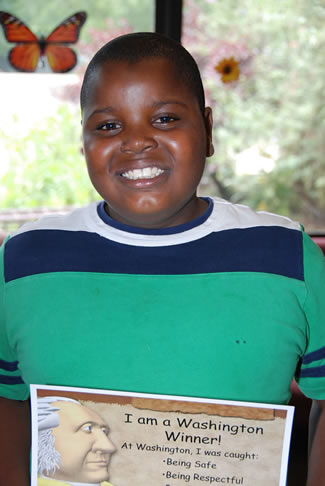 White tickets are awarded weekly for good behaviors and actions in the classroom. White ticket winners are honored with special recognition in their classroom at the end of each week and their names are announced every Monday morning.
Red tickets are presented to individuals for notable good behavior outside of classrooms, including in hallways, buses, the playground and cafeteria, etc. At the end of the month, the student in each class with the greatest number of red tickets is recognized with a special certificate.
Entire classes can earn blue tickets for positive group behavior out-of-the-classroom. Blue tickets are also awarded to the two classes within the building with the most tickets overall.