Jack Abrams Retires from Museum Curator Post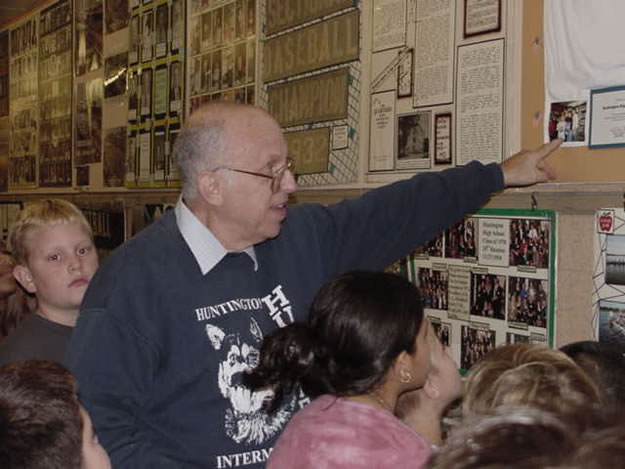 The founder of the Huntington School District's School Heritage Museum and the only curator the institution has ever had is retiring. Jack Abrams has stepped down from his part-time post after 25 years of service.
"Jack is clearly a Huntington School District icon," Superintendent James W. Polansky said. "His knowledge of and history with the community is second to none. Despite the fact that he is retiring, the impact of his longstanding presence and efforts will be felt indefinitely. It has been a pleasure to come to know him and, even in a short time, learn from him."
Mr. Abrams has been associated with the school district in one form or another for 57 years. However, he feels it's time to slow down a little bit and stop pushing himself as hard as he has been. He has a winter home in Florida and a summer home in East Northport and he wants to enjoy both without the demands of the School Heritage Museum post.
Born during the Great Depression, Mr. Abrams is a graduate of Andrew Jackson High School in St. Albans, Queens. After serving in the U.S. Army Special Service and Signal Corps in Korea and graduating from New Paltz Teacher's College with a B.S. in Education, he began his career at the Newbridge Road School in North Bellmore before joining the Huntington school family in 1955. Along the way he added advanced degrees from Hofstra and Columbia universities.
The first of many assignments saw Mr. Abrams work as a sixth grade teacher at Woodbury Avenue Grammar School. As the years unfolded, his Huntington career included stints as elementary science coordinator and principal of Nathan Hale, Woodbury Avenue, Washington, Village Green, Toaz/Finley's sixth grade school and Woodhull.
In 1975, Mr. Abrams initiated the unique sixth grade outdoor education program that annually sees hundreds of students trekking to Camp Greenkill for four days and three nights of hands-on educational activities. He even spent a year teaching fifth grade in Great Britain through the Fulbright Teacher Exchange Program. Another year was spent as a third grade teacher in Northport while on a sabbatical from Huntington.
Mr. Abrams served the last six years of his career as principal of Jefferson Elementary School before officially retiring in 1987. It wasn't long before he was busy establishing the district's museum, which today is filled with more than 1,500 items.
In 2008, the Huntington School Board voted to rename Huntington Intermediate School in honor of Mr. Abrams. The formal dedication came during a ceremony held in September of that year. A crowd of about 300 gathered in front of the building to pay tribute to a man who has given his heart to the Huntington School District.