Retiring School Trustees Honored
by Colleagues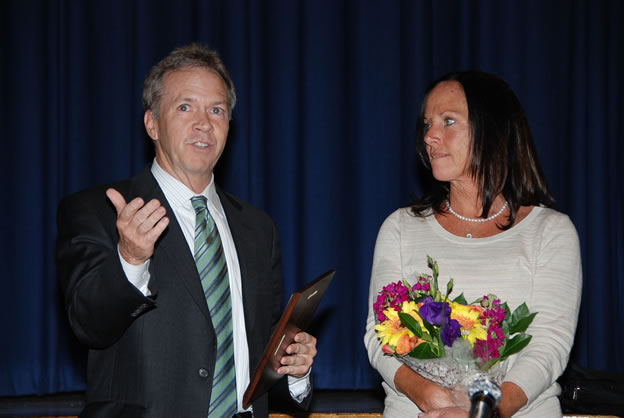 The Huntington School Board honored its two retiring members last Monday evening as trustees took a few minutes near the start of their public meeting to recognize the many years of service of Elizabeth Black and Kimberly Brown, who are departing at the end of the month.
Mrs. Black is wrapping up nine years as a trustee, having been elected to three full terms. Mrs. Brown has served for the past four years. She was initially elected to fill a vacancy when a sitting trustee resigned during her term. A year later, Mrs. Brown won a full-three year term.
"It has been a pleasure to work with this Board, and both Liz and Kim have played a major role in establishing a productive and enjoyable tone in all regards throughout the year," Superintendent James W. Polansky said. "Their commitment to the students and residents of the Huntington School District is beyond praiseworthy. Their positive impact will continue to be felt long after their final term concludes."
The retiring trustees were presented with plaques commemorating their years of volunteer service to the district. School Board President Emily Rogan offered heartfelt words recognizing both departing trustees.
Mrs. Black Firm on Issues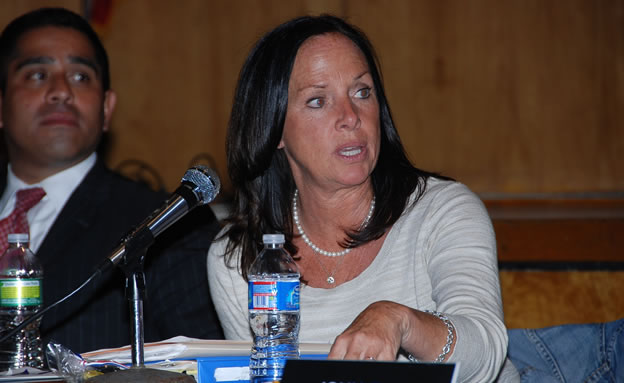 "I learned by watching and listening to you and following your lead when I wasn't sure what to do," Mrs. Rogan said during her tribute to Mrs. Black. "You offered advice to me when I was a newbie and helped put me at ease when I didn't know what to expect. You have been firm about the issues you believed in and stood your ground when it mattered. You always had a clear sense of what you believed was right and wrong. You've been both a worthy adversary and strong ally on issues that we've faced over the years. For many years, you were the only teacher on the Board and showed your passion for excellence for students, supporting programs that enhanced learning, asking questions about curriculum and instruction. Nine years on the school board is a long time and we all owe you thanks for your commitment. I wish you well on the next phase of your journey."
Mrs. Brown a Fierce Advocate
Mrs. Rogan was equally effusive in recognizing Mrs. Brown's service to the community. "We've both agreed and disagreed on issues during your term, but never let that get in the way of our respect for each other or our friendship," Mrs. Rogan said. "What I've learned is that you're a fierce advocate for what's right and you have no tolerance for injustice. You always put the children first. You're not afraid to speak your mind, even when you know it will upset others. Your honesty and candor is refreshing and admirable. You speak for those without a voice. You are the most loyal person I know. Your ability to see clearly right to the issues helped keep us on topic and focused when we tended to go astray. I will miss your honesty, fresh perspective and candor. But mostly, I will miss your support and your compassion."
Once the presentations were complete, the two retiring trustees briefly addressed the crowd. Mrs. Black cited the crucial role that teachers play in the education of each student and said that no matter how advanced technology becomes, it will never be able to replace that personal connection between teacher and student. Mrs. Brown expressed delight in the district's leadership and direction under Mr. Polansky and in Mrs. Rogan's stewardship of the Huntington School Board.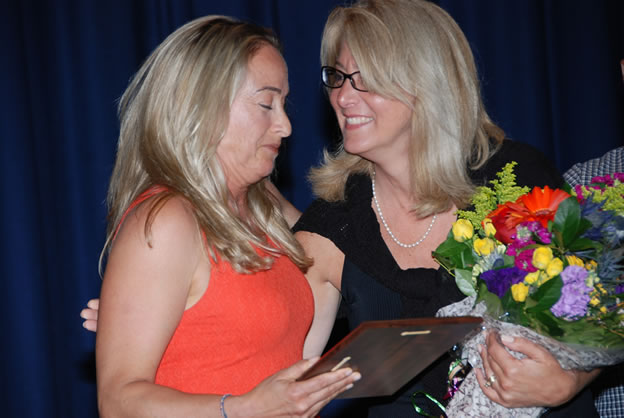 The children of both departing trustees came to the Board's table and presented their respective mother with personal tokens of their appreciation, along with hugs and kisses as a crowd of about 150 applauded.
The seats of the retiring trustees will be filled as of July 1 by Tom DiGiacomo and Xavier Palacios, who were both elected by district resident to three-year terms on May 15.