Town Board Honors HHS
Relay For Life Organizers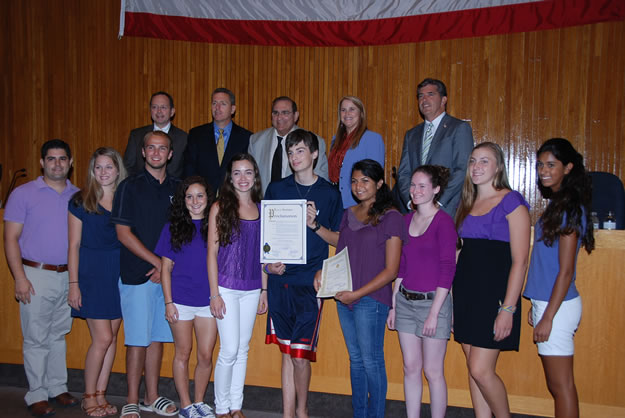 Many of the Huntington High School students responsible for organizing last June's enormously successful American Cancer Society Relay For Life fundraiser were at Town Hall this past Tuesday evening as the Huntington Town Board honored the teenagers and their faculty advisor for a job well done.
Huntington's first Relay For Life raised an astonishing $128,673. It's an impressive amount, especially considering that it was limited to the school community and not open to other high schools. Hundreds of participants spent 12 hours at Blue Devil Stadium or nearby athletic fields, circling the track throughout the evening and overnight hours, taking part in related activities, sleeping, reading, etc. The event stretched by 6 p.m. to 6 a.m.
Town Councilwoman Susan Berland took the lead in honoring the Huntington group. "The student organizing committee spent nearly a year planning the event and had each detail meticulously scheduled from the survivor's reception dinner, to raffles, to ceremonies and entertainment," said Mrs. Berland, reading from a Town Board proclamation. "The students also worked collaboratively on this school-wide event with members of the PTA, the Booster Club and the American Cancer Society."
Huntington High School's National Honor Society chapter initiated last June's event under the guidance of faculty advisor Joseph Cohen. Student leaders were assigned roles and responsibilities and carried out their duties in a remarkable way. More than 600 current Huntington High School students participated on 60 fundraising teams, along with hundreds of alumni, parents, family and community members and faculty and staff.
Mr. Cohen said that planning is already underway for next spring's Relay For Life. Students are developing a formal proposal to present to Huntington School District executives which will outline in detail every aspect of the large undertaking.
Incoming National Honor Society President Nikki Smoot, Vice President Molly Prep and NHS member Gabriel Goldman are expected to serve as co-chairmen of the 2013 event. Mr. Cohen said a late May or early June date is anticipated for what organizers hope will be an even larger gathering.
Many of the teenagers who organized and led this past spring's Relay For Life will be off to college in a few weeks. However, they have all pledged to return next spring and participate in the second edition of what everyone involved hopes will become an annual extravaganza.
"It's a really huge undertaking, but the kids are motivated, dedicated and energetic about doing whatever is necessary to make it a success," Mr. Cohen said.