Soljanich Wins Spelling Bee at Washington School
There was plenty of energy and excitement during a late June spelling bee contest for Washington Primary School second graders. After a series of challenging rounds over several days, Charlotte Soljanich was crowned champion after she correctly spelled the word "trapezoid."
The contest serves to promote reading, grammar and spelling and it heightened the interest of students in each of these areas. The annual competition was created by former Huntington teacher and current district parent Tim Pillion, who presided over the finals during the early years of the contest. Washington reading teacher Jeff Dicker presided over this year's championship rounds.
Students qualified for the finals through earlier rounds conducted in their respective classrooms. Five students from each of the four second grade classes advanced to the finals. With their classmates watching, the finalists sat on chairs on the school stage until their name was called. When it was their turn, contestants stood at a lectern as Mr. Dicker called out this year's words. It took several days to conclude the finals.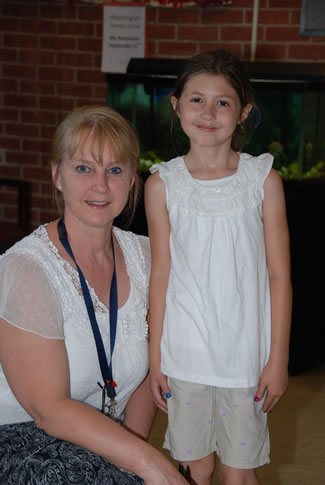 Tensions mounted as contestants finally started to fall. Finally, the battle came down to just two competitors, Ms. Soljanich from teacher Patricia Maltempo's class and Mia Rosof-Mallory from teacher Maria Lanzot's class. Third place finisher Erica Flaherty came from teacher Suzanne Dinehart's class. "It was fun to compete," Ms. Soljanich said.
Andrea Seferian won last year's spelling bee when he accurately spelled the word "goulash." Anna Wickey captured the 2010 title when she correctly spelled the word "business." Ryan Hoffman won the crown in 2009 after acing the spelling of the word "pasture." Nicholas Inman won the spelling bee crown in 2008 when he spelled out "eclipse." In 2007, Sarah James took top honors after she accurately spelled "giraffe." Students look forward to the event in the weeks leading up to it.
Ms. Soljanich's name will be engraved on a plaque that already contains the names of the past five second grade spelling bee champs. It is affixed to a wall in the main lobby of the school.
Contestants said they enjoyed the experience of battling each other academically. "The spelling bee is a nice mix of fun and learning," Principal Marsha Neville said.