Superintendent Polansky Celebrates First Anniversary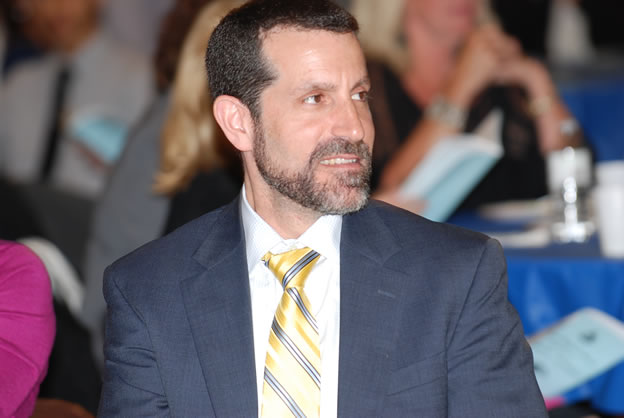 Has it been a year already? Huntington School District Superintendent James W. Polansky celebrated his first anniversary on the job this week in typical fashion; immersed in work, meeting with building and department leaders and poring over academic plans for next year.
It's been a whirlwind year for Mr. Polansky, who came to Huntington after a decade in South Huntington, where he served as Walt Whitman High School's assistant principal and principal and later as assistant superintendent for personnel and district services.
"I am proud of the progress we have made, yet realize that we have much more to accomplish," Mr. Polansky said about his first year as Huntington's superintendent. "Our students have experienced success in the classroom, in the arts and in athletics. Our graduating seniors are moving on to some of the finest post-secondary institutions in the country, many with scholarships in hand."
Mr. Polansky has been relentless in his quest to improve all aspects of teaching, learning and student performance across the board. There have been many successes in an assortment of areas over the past year. "Student achievement in all disciplines has been impressive, whether associated with nationally recognized science research and history competitions, math Olympiads, essay-writing, mock trials, award-winning musical performances and artwork or state-recognized athletic performances," Mr. Polansky said.
The superintendent has been a highly visible figure throughout the district and community. He's been seen at athletic events, plays and concerts, academic competitions, awards ceremonies, meetings of school groups and local organizations, at Huntington Town Hall and at countless other places. He even sat in on classes, observing teachers carrying out their lessons and later meeting with the individual faculty members to review his findings.
Challenges and Obstacles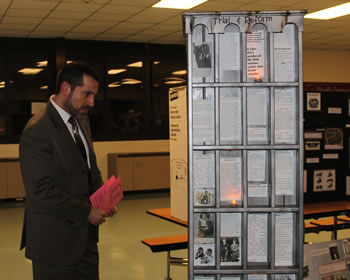 The state's new cap on the property tax levy threw several challenges and obstacles in Mr. Polansky's path as he worked to craft the 2012/13 budget. The plan approved by residents in May "will keep our outstanding programs and support services intact, despite the relentless impact of a broad range of costly state mandates and non-discretionary financial obligations," he said.
There has been a great deal of progress on several other fronts, too. "We have constructed multi-year capital improvement and technology plans to ensure that our facilities are appropriately functioning and that we are able to prepare our students for success in a constantly changing digital environment, as well as enhance our ability to communicate with district constituents both rapidly and accurately," Mr. Polansky said.
Despite all the progress that has been made, much more work awaits district leaders. "I am well aware of the challenges we currently face and those that are likely to lie ahead," Mr. Polansky said. "We live in a time when financial challenges are the norm and education is under constant scrutiny."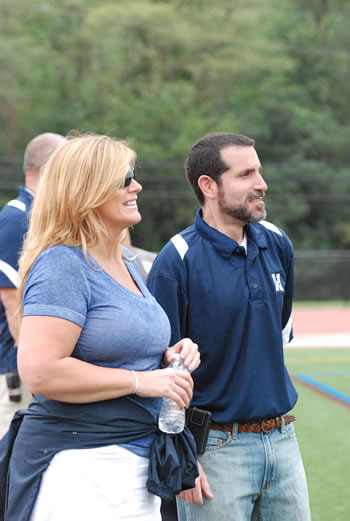 Over the past year, Mr. Polansky has worked from early morning hours to late in the evening. Despite the full agenda that greeted him each day, he managed to get to know hundreds of parents and students on a name basis and became expert in the traditions and intricacies of the large, sprawling district.
At the heart of Mr. Polansky's focus are improved classroom results. "Performance accountability is undergoing a transformation statewide, with a more significant and appropriate focus on college and career readiness," Mr. Polansky said. He has worked hard at developing and implementing the district's new annual professional performance plan for teachers and administrators, parts of which were required to be collectively bargained.
Another one of Mr. Polansky's initiatives involved formulating Huntington's "Response to Intervention" plan, which has been "designed to better ensure that every child receives what he or she needs, both academically and socially," he said.
Busy Filling Vacancies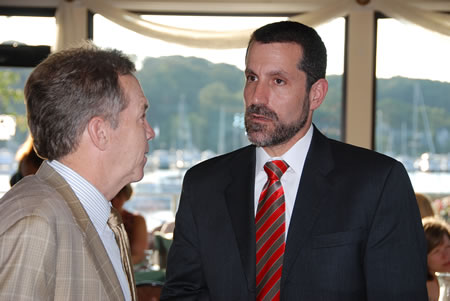 Huntington's superintendent has also been busy hiring administrators to replace longtime district employees who retired at the end of the 2011/12 school year, including Huntington High School Assistant Principal Angelo Noce, Jefferson School Principal Margaret H. Evers, Executive Director of Special Education Vicki L. Mingin and Assistant Superintendent for Finance & Management Services David H. Grackin.
The start of Mr. Polansky's second year will be just as busy as last summer as he guides the new administrators through their transition period and does some more interviewing and hiring. He is also keeping tabs on curriculum writing and professional development activities planning, which will play a key role in fostering instructional program alignment with common core standards. "And all of this just scratches the surface," he said.
As Mr. Polansky settles into the district, don't expect him to sit still. It's just not in his nature when there is so much work to be done. He has become the district's biggest cheerleader. "Huntington is a wonderful place to live and to raise and educate a child," he said. "I look forward to our continued progress as a district and to working together in the years to come."