Gabriella Cuadra Wins
Howard Munson Scholarship
Gabriella Cuadra certainly never met Howard Munson and most likely never heard of him or knew where his automotive shop was located in Huntington village until recently. But, Mr. Munson's good fortune and generous nature will assuredly play a role in the Huntington High School Class of 2012 member's future.
Ms. Cuadra is headed to Monroe College in the fall. The institution's main campus is in The Bronx, with smaller campuses in New Rochelle and St. Lucia. The school is a private, proprietary college with about 7,700 students spread over its three campuses and online programs. It offers two year, four year and graduate degrees.
Ms. Cuadra was exuberant while being presented with the $3,000 Howard N. Munson Scholarship by the Huntington Fire Department during this past spring's senior academic awards night in the Huntington High School auditorium.
Although Mr. Munson once admitted that he never really enjoyed school, he knew it was important. So he did what needed to be done, graduating Port Washington High School and keeping his eyes glued to the future. The award presented in his honor is made payable to the recipient's college of choice.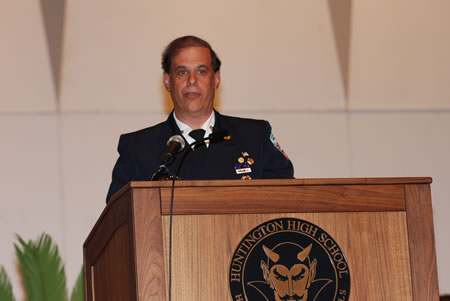 Born June 28, 1908 to Frank and Dora Hill Munson, Howard "didn't like school very much," said Neil D. Getter, an ex-chief and the current financial secretary of the Huntington Fire Department, who was on hand in the Huntington auditorium to present the award. "He liked being around cars and told his dad to forget about the new car he had been promised if he stuck it out and graduated, because he would rather use the money to study engineering at Pratt Institute, which he did, graduating in 1928. After Pratt, he went on to graduate from General Motors Tech."
Mr. Munson opened an auto repair shop in Huntington in 1930 and continued running it until the very day he passed away on October 22, 1999. "During the almost 70 years he was in the auto repair business he served the local fire department, the rich and famous, the poor who could not pay, the local town folk and those who came from afar," Mr. Getter said
An insightful episode in Mr. Munson's life was shared with a crowd 300 at the awards night. "On one terribly cold and icy night, when there was a very bad fire in Huntington, he worked all night to keep a truck pumping and got it out of the way when the building started to collapse," Mr. Getter said.
"Over the years, the business continued to grow, largely due to the fact that he cared about his customers, never once over charged nor cheated them in any way and while he got his hands dirty, he was noted for always wearing a necktie with his uniform and keeping the shot neat, clean and organized," Mr. Getter said about Mr. Munson.
Ms. Cuadra is a happy, hardworking and industrious teenager. She sets goals for herself and works long hours to accomplish each of them. She is a friendly, well-liked young woman who was respected by her teachers. Monroe College seems like a very good fit for the new Huntington alum.
"Monroe College provides professional, career oriented higher education to students from diverse backgrounds," states the school's mission statement. "We proudly offer access and opportunity to motivated students who desire to enrich their lives in a personalized and supportive environment. We provide caring and effective teaching and sustain faculty who are passionate, knowledgeable, and dedicated to student success. We build on these strengths to prepare graduates for successful careers."
Mr. Getter closed his remarks by wishing the same type of success Mr. Munson enjoyed on the soon-to-be Huntington grad. "Though he chose blue collar work, he died a wealthy man and we hope that you will do as well in your chosen career," Mr. Getter said.
This marked the twelfth year the Munson Scholarship was presented to a Huntington senior.