Blue Devil Football Bonds at
Dave & Busters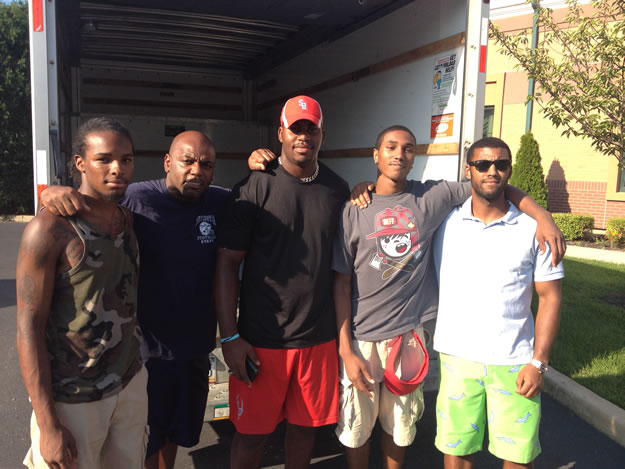 The Huntington High School football team has trained hard this month, with twice daily practices. The Blue Devils have been undergoing physical conditioning drills as well as learning this year's plays and sharpening their technical skills.
An important part of the pre-season involves building team camaraderie. With this in mind, Huntington's players and coaches headed off for an evening out together. The current concept of "team building day" dates back to 2008 when Ron Wilson stepped in as head coach for a season while longtime varsity head coach Steve Muller took a leave of absence from the post. Not only was the initiative popular with players, but it was successful, too.
"We have continued this fine tradition and the young athletes all enjoyed themselves," Wilson said about the recent activity. The Huntington football coaches try hard to create a family-type atmosphere around the high school program. In recent years players have attended various social events together, from bowling to a Thanksgiving-related feast, designed to encourage camaraderie and friendship.
As he has done before, Greg Corbly, a district parent who is the general manager of Dave & Buster's in Westbury, invited the Blue Devils to the restaurant for an evening of food and fun. The Huntington contingent enjoyed an hour of bowling, food and beverages and complimentary game cards.
Players and coaches experienced some friendly competition on the bowling lanes and in the gaming area and had a lot of fun along the way. "Coach [Jim] McCabe and I once again were beaten by some of the athletes in the NASCAR game that has become a hot favorite for us all to play," Wilson said about one of the highlights of the evening.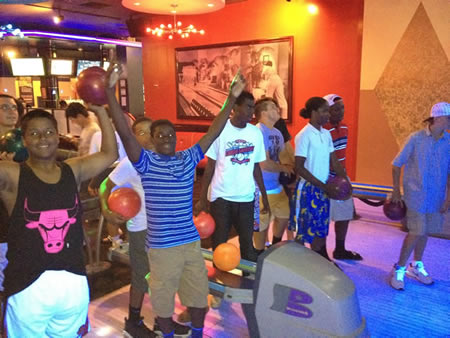 "It was nice seeing the kids enjoy themselves," Muller said. The Blue Devils were served a variety of foods and beverages and everyone on the roster intermingled. Coaches sat and ate with players and the varsity squad dined with the JV. 
"When we thought it couldn't get any better, it did," Wilson said. "Mr. Corbly graciously gave a game card to each player and coach to enjoy the arcade games." What transpired was plenty of good, clean fun.
When it was time for the evening to come to a close, both coaches and athletes agreed it had been an all-together enjoyable experience. Wilson said it was "another great team building activity where we had a chance to enjoy one another's company away from the field."
Huntington is prepping for a challenging schedule. Many talented players were lost to graduation last June, but a large turnout has coaches enthusiastic about the team's potential.
The Blue Devil's regular season schedule consists of eight games:

• Saturday, Sept. 8 Huntington at Harborfields 2 p.m.
• Friday, Sept. 14 Huntington at Rocky Point 7 p.m.
• Saturday, Sept. 22 Eastport-South Manor at Huntington 2 p.m.
• Saturday, Sept. 29 Amityville at Huntington 2 p.m.
• Saturday, Oct. 6 Huntington at Deer Park 1:30 p.m.
• Saturday, Oct. 13 Comsewogue at Huntington 2 p.m.
• Saturday, Oct. 20 Huntington at Hauppauge 5 p.m.
• Saturday, Oct. 27 Kings Park at Huntington 2 p.m.
The Blue Devils' game against Amityville on September 29 will be the centerpiece of Huntington High School's Homecoming Day activities. It will include the crowning of the Homecoming king and queen during half-time festivities. A noon parade through Huntington village will precede the football game. A Saturday evening dance for students is also planned. Parade floats will be constructed at the school on Friday night, September 28.