Colwin Captures E.C. McGaul Award
for Business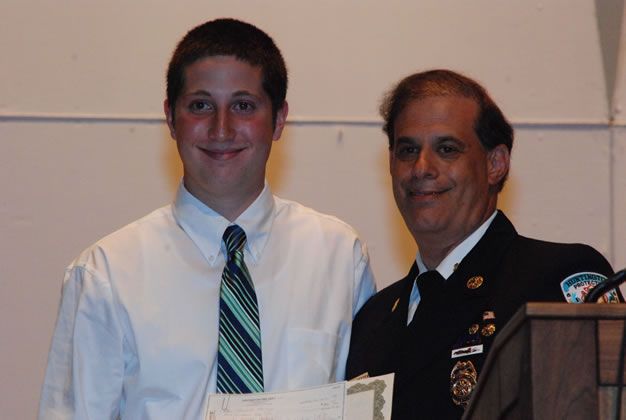 Spencer Colwin always has a plan. The newly minted Huntington High School graduate captured the Huntington Fire Department's E.C. McGaul Award for Business and the $500 stipend that accompanies it. The teenager is headed to Nassau Community College and has big plans for the future.
The teenager will be studying business in college. "I was originally going to Kean University to play lacrosse, but I thought I should focus more on my grades and I didn't know if I was ready to go away, so I chose Nassau Community College," Mr. Colwin said. He plans on obtaining an associate's degree at Nassau and then transferring to New York University, Pace University or City University of New York – Baruch College.
Neil D. Getter, an ex-chief and the current financial secretary of the Huntington Fire Department, presented the E.C. McGaul Award to Mr. Colwin as the top business student in Huntington's Class of 2012. "I was honored to win the scholarship," Mr. Colwin said. "I've worked so hard these past four years and it felt great to be recognized."
The new grad completed every business course offered at Huntington High School. Mr. Colwin also participated in a variety of extracurricular activities, including the Huntington Interfaith Housing Initiative, the senior, senior prom, Relay For Life, Special Olympics, Grandfriends and A World of Difference.
"I would have to say my two favorite teachers were Mrs. [Suzie] Biagi and Mr. [Ed] Florea, since they were both always there for me and helped me become who I am today," Mr. Colwin said. Ms. Biagi teaches business at the school and Mr. Florea is a member of the science faculty. The teenager really hit it off with the two teachers.
Mr. Colwin played four years of high school lacrosse. He captained the junior varsity team as a sophomore and led the Blue Devils in goals and assists. He also participated in football and winter track and field as a sophomore. "What I really enjoyed about the high school was that there was a lot to be involved in," he said.
The teenager, who loves boating, also snowboards and wakeboards regularly, plays basketball in a community league and has refereed basketball in the St. Patrick's sports league for many years.
Mr. Colwin participated in the Huntington Chamber of Commerce's Young Professionals business competition as a junior and never failed to pitch in when needed. "He was always willing to help," said Mrs. Biagi, who collaborated with Mr. Colwin on a host of after school club activities. "He's funny and full of energy; a really nice young man. I'll miss him and his antics. He's one of my all-time favorites."