Martilla Wins Marching Band Award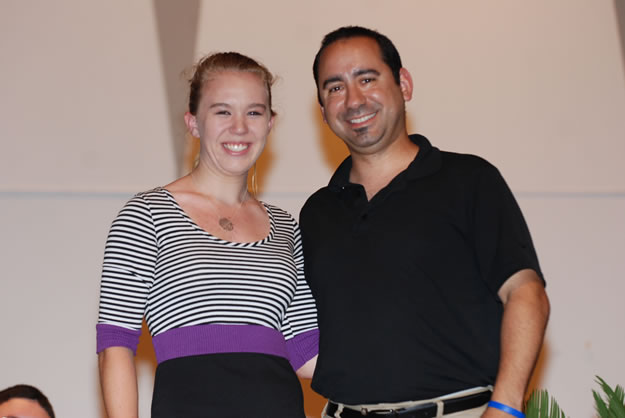 Mallory Martilla was such a large part of the Blue Devil marching band that it's hard to imagine she won't be missed at Huntington High School this coming year. A member of the Class of 2012, the teenager will attend Sacred Heart University in Connecticut in the fall. She plans to study nursing.
Ms. Martilla captained the Blue Devil color guard and was a leader in every possible way. "Color guard captain is a demanding and difficult student leadership position," said Brian Stellato, the band's co-director. "Mallory filled it with tremendous passion and class. She always brought a great deal of energy to practice and performed with a particularly captivating presence."
During Huntington High School's annual senior academic awards night, Ms. Martilla was presented with the New York State Field Band Conference Award, which carries a $300 stipend. "I didn't know I was winning a marching band award, but I was truly honored when I got it," she said. The teenager added she was proud to be not only recognized by Huntington High School but by the entire New York State Field Band Conference.
The new high school alum will be a member of the Sacred Heart marching band's fall color guard as well as the college's winter guard. Ms. Martilla formed close relationships at Huntington with Mr. Stellato and marching band co-director Jason Giachetti and with Blue Devil color guard instructor Amy Giachetti, too.
"I greatly respect them," Ms. Martilla said about the Huntington band staff members. "They have taught me so much and have grown on me. I love the activity as much as they do. They have given me the heart for it. I'm glad to be experiencing more of it now in college."
English teacher Victoria Lombardi was the teenager's favorite teacher at Huntington High School, "because I was interning with her for my senior year," Ms. Martilla said. "She taught me skills in life as well as in English and has also been a great friend to me."
Ms. Martilla also singled out school dean Paul Celeca and his secretary, Danielle Cordella as two high school staff members "that stood by me." She counts the pair, along with the marching band advisors and Ms. Lombardi as central figures in her scholastic life. "I can truly say that without the help of these teachers and the Huntington High School marching band program, I would not be the same person I am today; and I am very thankful for it," she said.
Ms. Martilla's favorite memory from her senior year is of the Blue Devil marching band's first place performance in the NYS Field Band Conference competition at Copiague High School. "I accomplished many of my senior year goals," she said. "It was by far my favorite year at Huntington High School."
The teenager enjoyed a thoroughly well rounded high school experience. She played on Huntington's varsity softball team under head coach John Walsh. "We had the best record in softball that we've had in a long time," Ms. Martilla said about the season. She plans to play club softball at Sacred Heart.
As the Blue Devil marching band readies for its fall season, Ms. Martilla is preparing for her first day of classes at Sacred Heart on Monday, August 27. Change is in the air, but Huntington High School won't soon forget the spirited teenager.