Huntington's Sixth Graders
Express Themselves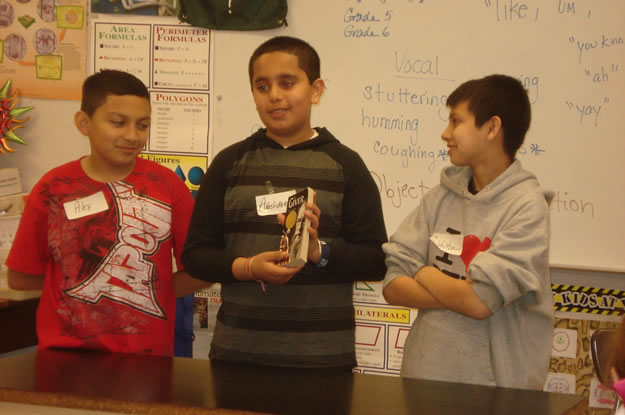 Any parent can attest to the fact that sixth graders love to express themselves. These youngsters are rarely at a loss for words and will talk on and on about almost anything. So, a set of public speaking workshops for them at Woodhull Intermediate School went over in a big way.
A total of 60 workshops were made possible through a $4,500 Huntington Foundation Star grant. Maryann Daly, the district's SEARCH program chairperson and teacher sought the grant after putting together a plan that provided five workshop sessions for each of the 12 sixth grade sections.
The "Express Yourself" initiative stretched from early November into May. The workshops were led by Heather Thorgersen, creative director of Think BIG Arts in Education. "Each month, she took more than 350 students through the process of public speaking, presentation, diction and knowing how to effectively engage an audience, skills many of us use on a daily basis," Mrs. Daly said. "These skills are needed as these children approach middle school," Mrs. Daly said.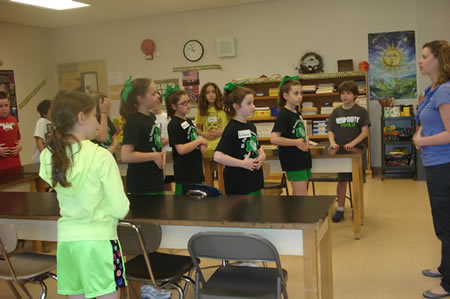 The goal of the workshop activities and lessons was to teach students how to become more successful and confident in the art of presentation and public speaking. One of the workshops included groups filming each another with SEARCH program flip cameras supplied by Mrs. Daly as the youngsters went about participating in small group presentations.
The recordings later served a useful educational purpose. "There was a visual record of the students' progress as they practiced their public speaking skills and became more comfortable in speaking and presenting information in front of an audience, especially one consisting mostly of their peers," Mrs. Daly said.