Fulton Scholarship Awarded for
First Time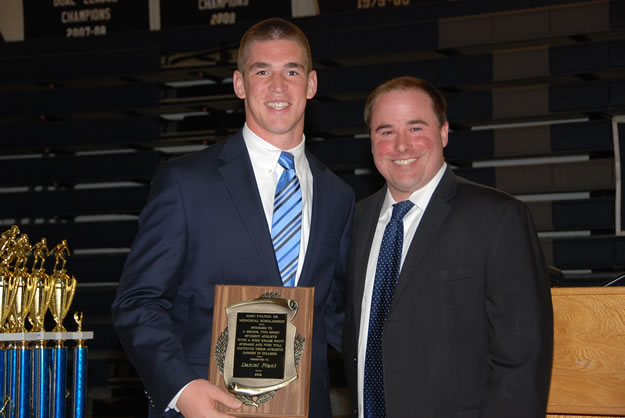 Those who knew him, worked with him or were touched by his kindness can attest that John Fulton, Sr. was a giant of a man. He grew up in Huntington, raised his family here and ran a thriving business out of a building in the village.
A member of Huntington High School's Class of 1973, Mr. Fulton always remembered his alma mater. He sent his own children through the school and was frequently seen attending events around the district. When he lost his battle with multiple myeloma on August 27, 2009 at 55 years old, it was a crushing blow to his family and friends.
The John F. Fulton Foundation was formed by the Fulton family to perpetuate the memory and values of a unique individual who understood well the key role schools and young people play in the life of a community.
The Fulton Foundation made its first scholarship presentation this year, recognizing Huntington Class of 2012 member Daniel Plant with a $1,000 award. The teenager is headed to Rutgers University where he intends to play on the Scarlet Knights' NCAA Division I lacrosse team. The Fulton scholarship acknowledged Mr. Plant's "great work on and off the field."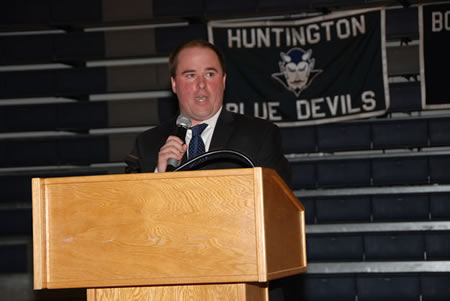 "My dad always believed in education," said John Fulton, Jr. at this year's Blue Devils senior athletic awards banquet. "Ever since I was young, he told me that education will stay with me for a lifetime; that it is something that cannot be taken from me. My dad also admired all the student athletes here at Huntington. He never missed a single game of mine or my three sisters. He admired how scholar athletes here at Huntington never miss a beat."
Mr. Fulton owned and operated the Huntington Pennysaver Group. As a successful businessman he was in a position to help others in need and he didn't hesitate to do just that whenever he could.
"I know how hard it is to wake up at 6 a.m., go to school all day, squeeze in your homework assignments and go to practice until 6 p.m. and then come home, shower, eat dinner and if you're lucky enough, do some more homework and study before you fall asleep and do it all over again the next day," John Fulton, Jr. told a crowd of about 250 student-athletes and their parents at the athletic awards banquet. "For that, I want to congratulate everyone in this room and tell you to continue working hard both on the field and in the classroom, because it will bring you a lot of success in the future."
This year's Fulton scholarship recipient is one of the leading members of Huntington's Class of 2012. Mr. Plant earned varsity letters in golf, winter track, football and lacrosse while realizing academic excellence. He was Huntington's male recipient of the Suffolk Zone Award of the New York State Association for Health, Physical Education, Recreation and Dance Award and also garnered New York State scholar-athlete honors several times.
As the starting quarterback and captain of the Blue Devil football team, Mr. Plant was named All-Division and All-County as a junior and senior and also captured All-County Academic honors. He commanded the respect of his teammates as well as opposing coaches and players. The Huntington football coaching staff relied on the teenager for his strong leadership skills.
As the captain of the lacrosse team, Mr. Plant was All-Division as a junior and All-Division and All-County as a senior. He will be especially missed by his younger teammates.
For more information about the Fulton Foundation and how you can help, call John Fulton, Jr. at (631) 897-3947 or send an e-mail to john.f.fultonfoundation@gmail.com.