Holly Blakley Wins Three Awards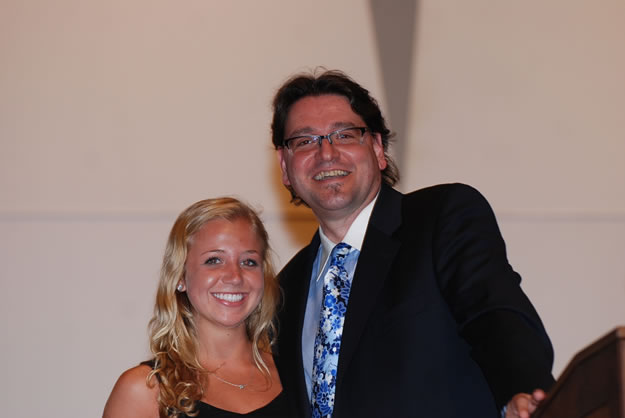 Holly Blakley is getting ready to pack her belongings and leave home for Villanova University where she plans to study biology. The Huntington High School Class of 2012 member leaves behind an impressive record of achievement and the respect and affection of everyone she has encountered over the past four years.
Ms. Blakley immersed herself into Huntington High School's academic and co-curricular programs, pursuing advanced coursework, serving as an editor for the school's literary magazine, raising money to fight cancer, helping lead two honor societies and performing in the pit orchestra and marching band.
"Since the first moment I met Holly Blakley I knew that she was a remarkable person," said classmate Justin LoScalzo. "I cannot believe that I only met her three years ago. It feels like we have been friends my entire life. It is impossible to list all of the qualities that Holly possesses that make her the wonderful person and friend that she is. To name a few, she is kind, considerate, intelligent, hard-working, empathetic and altruistic. Holly is always there for her friends whenever they need her, providing them with encouragement, support and advice. She is a true role model for all that she comes into contact with."
During Huntington's senior academic awards night late last spring, Ms. Blakley was presented with three prestigious honors, including the Political Action Award, Promising Young Writer Award and the St. John's University Women in Science Society Award, which she shared with classmates Kaja Coraor, Holly Flores, Juliana Coraor and Laura Zenzerovich.
It's not at all surprising that Ms. Blakley was this year's Promising Young Writer Award recipient. She was a member of an elite group of 37 New York State students to win a National Council of Teachers of English Achievement Award in Writing. The teenager was one of just 21 Long Island students and 520 across the country to win the award, which is based upon teacher nominations, a writing sample and an impromptu essay written during a supervised 75-minute period.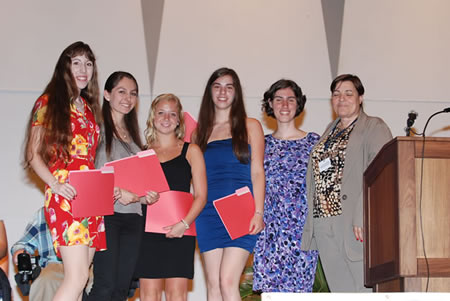 "Holly is a super person with great energy," Huntington English teacher Michael Schwendemann said. "She is always positive and upbeat. She can light up a room with her smile. She also happens to be perceptive and bright with a passion for learning. Holly is all that and has a great sense of humor, too."
Along with Greta Farrell and Asar Nadi, Mr. Blakley edited this year's edition of Et Cetera, Huntington High School's annual literary magazine. She was one of nine Huntington seniors to capture a New York State Scholarship for Academic Excellence for outstanding classroom performance.
"Of Holly's many talents, the one that comes to mind most when thinking of her is how she is a gifted writer," Mr. LoScalzo said. "Holly has won numerous writing contests and has a way with words that I truly admire. I know that Holly has a very bright future ahead of her and Villanova is extremely lucky to be gaining such an incredible individual."
While Ms. Blakley has impressive verbal and written skills, she is also musically talented. "Holly is an amazing young woman with an infectious personality," said Brian Stellato, a Huntington High School music teacher and co-director of the Blue Devil marching band. "She came to the music department with very little experience and became an outstanding percussionist, excelling at mallets in particular. Most importantly, though, Holly is an inspiring young woman. Her dedication and passion behind everything she does is truly special."
In each of the past two years, Ms. Blakley performed in the pit orchestra for the high school spring musicals. "She became one of the leaders of this ensemble, never missing a minute of the demanding time commitment," Mr. Stellato said. "I never had to worry about the percussion assignments because I knew Holly was back there."
As a senior, Ms. Blakley served as a marching band pit section leader. "She was a very effective leader and role model for all the band members," Mr. Stellato said.
This past year, Ms. Blakley was the treasurer of Huntington's chapter of the National Spanish Honor Society. "She was involved in our social group initiative and ESL tutoring," said Mercedes Pena, the Society's faculty advisor and an Advanced Placement Spanish teacher at the school. "The ESL students liked her a lot because of her friendly personality. Sometimes they would jokingly say that they'll come to the after school help only if Holly is there."
Mrs. Pena and Ms. Blakley formed a close teacher-student relationship. "What first comes to my mind when I think of Holly is that she is very sweet, cordial and bright," Mrs. Pena said. "I also love her pronunciation in Spanish. It is beautiful! It was wonderful seeing Holly flourish during the year. By the end of the school year she was almost speaking fluently, plus she got a high score on her AP Spanish exam."
Ms. Blakley was among the top students in Huntington's recently graduated senior class. She gives credit for her success to "great teachers, supportive peers, time management" and her "math family." While the teenager had plenty to smile about academically, she arguably derived even more joy from all the new friends she made each year.
The new Huntington alum worked on the enormously successful Relay For Life in June that raised nearly $130,000 for the American Cancer Society. "I have grown close with Holly this past year through classes and Relay For Life," said Brielle Blatt, a fellow member of the Class of 2012 and another key RFL organizer. "Holly is intelligent, funny and respected by everyone."
Ms. Blakley was treasurer of the Nathan Hale Chapter of the National Honor Society at Huntington High School. "Holly has a take charge attitude that makes her a true leader among her peers," said Joseph Cohen, the NHS faculty advisor and a science teacher at the school. "She is always willing to contribute new ideas to any service project within NHS, especially Relay For Life and always follows through. As treasurer this past year, she always made sure to be on top of our chapter responsibilities. She is definitely going places!"