Huntington School Briefs
The next meeting of the Huntington School Board will be held on Monday, August 6 at 7 p.m. in the J. Taylor Finley Middle School large group instruction room. The public is invited to attend. The room is air conditioned.
Lightning Strike at Woodhull
Woodhull Intermediate School was struck by lightning on July 18, according to Huntington School District Director of Facilities Al White. The strike burned out five motion detectors in the alarm system and five smoke detectors. ADT service was notified and the equipment was temporarily repaired. When parts that have been ordered arrive, a permanent fix will be made.
Summer Facilities Work Continues
Summer facilities related work is continuing in the Huntington School District. Original oil storage tanks are being replaced at Jefferson, Woodhull and Flower Hill schools. A room was created within a room at Washington School. The boys' bathroom near the J. Taylor Finley Middle School gym has been renovated and two Finley rooms were painted. A girls' bathroom at Woodhull was also renovated.
Blue Devil Marching Band
Huntington School Board members have approved the Blue Devil marching band's summer and fall staff.
The summer staff includes Brian Stellato and Jason Giachetti, who will share the director and assistant director positions. Amy Giachetti and Michael Marchena will share the color guard caption head and instructor positions. Susan Graber (band camp music instructor), Frank Battista (pit instructor), Michael Alfieri (battery instructor and percussion arranger), Jonathan Swengler (band camp visual instructor), Alex Prince (tech No. 1), Jessica Castaneda (tech No. 2), Daniel DeOliveira (tech No. 3), Lindsey Whiffen (student supervisor No. 1; student supervisor No. 2-Part C), Susan Graber (student supervisor No. 2-Part A) and Jonathan Swengler (student supervisor No. 2-Part B) were also named to the summer staff.
The fall marching band staff will feature Messrs. Stellato and Giachetti again sharing the director and assistant director positions. Mrs. Giachetti and Mr. Marchena will share the color guard caption head and color guard instructor positions.
The fall staff also includes Mr. Battista (pit instructor; tech No. 3), Mr. Alfieri (battery instructor), Mr. DeOliveira (visual caption head), Mr. Prince (tech No. 1), Ms. Castaneda (tech No. 2) and Ms. Whiffen (student supervisor No. 1-2).
Final Issues of The Dispatch
The final two issues of the Volume 39 of The Dispatch, Huntington High School's student newspaper were published in June. The first of the pair was a 16-page paper that featured stories on Huntington's Relay For Life, art show, school budget, year-end testing guide, test-taking tips, YMCA carnival, summer beach days, Young Leaders organization, school dress code, choosing the right laptop, the use of cell phones in school, a tour of town breakfast spots, food and cooking, cool places around town, music and book reviews, fashion tips, senior-senior prom and sports, among others.
The final issue included a list of the names of graduating seniors and the college they will be attending in the fall. It also featured stories about retiring faculty and support staff members, including Assistant Principal Angelo Noce.
Students Ari Moskowitz and Molly Prep served as The Dispatch's editors-in-chief. Class of 2012 members Laura Zenzerovich (features) and Jeffrey Sun (copy) were also among the paper's editorial staff. Ms. Zenzerovich is headed to Cornell University. Mr. Sun will attend Stony Brook University.
Teachers James Graber and Aimee Antorino are the paper's faculty advisors.
Marching Band Photos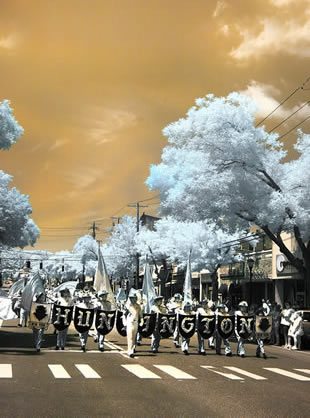 The Huntington High School and J. Taylor Finley Middle School marching bands participated in last May's Memorial Day parade through Huntington village. It's an annual tradition that is very much appreciated by local folks and military veterans.
Huntington parent William Grabowski, a fine photographer, snapped some nifty photos of the Blue Devil band as it marched down Main Street, beneath a huge American flag. Two shots in particular captured the imagination of many viewers. One is a traditional shot while the other used "infrared" techniques. The result has been termed "dramatic" by some.
Finley Awards
Many "graduating" J. Taylor Finley Middle School eighth graders were the recipients of special awards at the school's annual moving up exercises this past June.
Brooke Baade captured the Joseph Cane Memorial Band Award. Holly Grabowski and Jack Blackley won the Libutti Jewelers Music Service Award. Gregory Rorke earned the Huntington Fire Department Ex-Chief Louis Solomon Award for "high moral character." Sophia Latt and Richard Garger were presented with the Daughters of the American Revolution Award for "citizenship, patriotism and school involvement."
Joseph Puca and Kelly Schaefer won the American Legion Citizenship Award for "strong school community spirit." Katie Casey was given the Cissy Frost Friendship Award for her friendship, tolerance and spirit. Mrs. Frost was a longtime Finley teacher aide. Melany Lanham-Ciancia and Jack Malone garnered the American Legion Most Outstanding Musician Award.
New State Bi-Literacy Seal on Diplomas
Governor Andrew Cuomo signed into law this week a bill to recognize New York State high school graduates who demonstrate academic excellence in attaining proficiency in one or more languages other than English with a state seal of "bi-literacy." The seal will be attached to diplomas and transcripts of graduates who excel in listening, speaking, reading, and writing in multiple languages.
"New York State should recognize the outstanding achievements of our students who have dedicated themselves to learning different languages," Governor Cuomo said. "Acknowledging those students who have pushed themselves to do their very best and learn another language will provide them with an advantage when dealing with future employers and academic institutions. New York is a richly diverse state and these students are doing their part to ensure that we remain an active member of the global community"
The purpose of the seal is to increase the prospect of a student's future employment and educational success. The commissioner of education will award seals according to regulations developed by the Board of Regents. The bill will take effect September 1.