Kari Peer Had a Blast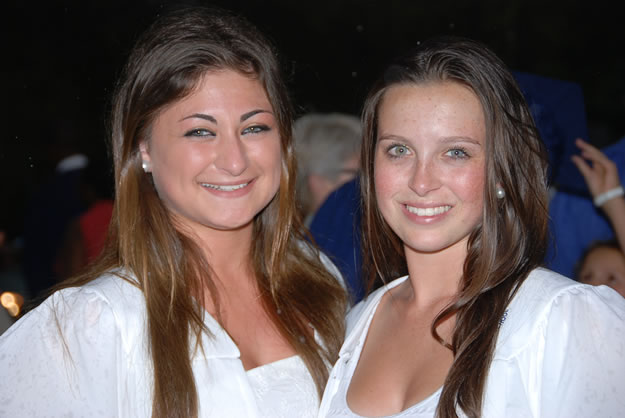 Kari Peer and the Huntington School District have gone hand-in-hand for a very long time. The teenager, a member of Huntington's Class of 2012, attended kindergarten at the Woodhull Early Childhood Center and was a student here ever since. That will change in a few weeks as the personable young woman heads off to the University of Massachusetts at Amherst.
Ms. Peer is the type of person who walks away from every experience having learned something. She picked up steam academically during high school, becoming a fine student and gaining the respect of her teachers.
Her core circle of friends began forming not soon after Ms. Peer started school as a five year old. It was at Woodhull that "I met one of my best friends to this day, Mary Maiorello," she said. The teenager later studied at Southdown Primary School, returned to Woodhull for fourth, fifth and sixth grades and spent two years at J. Taylor Finley Middle School before heading off to the high school for her final experiences in the district.
"My last four years at Huntington High School were a blast," Ms. Peer said. "I truly had the best time." She was involved in a wide variety of activities, including sports and clubs and developed durable and enjoyable friendships with classmates along with meaningful relationships with coaches and advisors.
As a high school freshman, Ms. Peer played on the junior varsity field hockey and lacrosse teams, was a member Key Club and of the Highsteppers, Huntington's competitive dance team. As a sophomore, she again played JV lacrosse and was a member of the Key Club, moved up to the varsity field hockey squad and joined Huntington's Habitat for Humanity club chapter. She continued with varsity field hockey and Habitat for Humanity as a junior and senior.
During a four year run filled with many highlights, Ms. Peer's experience on the Blue Devil field hockey team produced numerous pleasant memories. "Each year our team seemed to be closer than the last," she said. "The upperclassman always helped out the younger girls on the team. My senior year we made it to playoffs, which was an awesome way to end my last season."
Another high school highlight centered on the annual Homecoming Day parades and football games. "Huntington has tons of school spirit," Ms. Peer said. "The energy is always high. That's my favorite time of the year. I love how our school brings our community together to support the 'blue and white.'"
Ms. Peer captained Team Give Back in Huntington's inaugural Relay For Life this past June. The 14-member team raised $3,223 for the American Cancer Society during the massive overnight gathering. "All the work leading up to the event was so worth it," Ms. Peer said. "The planning committee did an amazing job. The night could not have gone better."
The teenager's favorite courses were the Honors English classes she took throughout high school and she has nothing but praise for her English teachers. Ms. Peer said she will "truly miss" Class of 2012 faculty advisors and high school social studies teachers Camille Tedeschi and Eric Bruckbauer. "They did a great job helping out our class with Playfest, homecoming and the prom," she said. "I'll also miss our beloved dean Mr. [Rob] Gilmor, who was always willing to lend a helping hand."
Ms. Peer is headed to a college with more than 21,000 undergraduate students and 86 academic majors. "For now I am an undecided major, but I hope to discover what it is I want to do with the aid of my large university," she said.
The teenager has some advice for incoming Huntington High School freshmen: "Learn the balance of work and fun because although it may not seem like it in the grand scheme of things, your freshman year grades do count just as much as any other year when you're applying to colleges as a senior," Ms. Peer said." High School is so much different than middle school and grade school. The transition can be hard, so it's important to remember your priorities."