Blue Devil Track is Unstoppable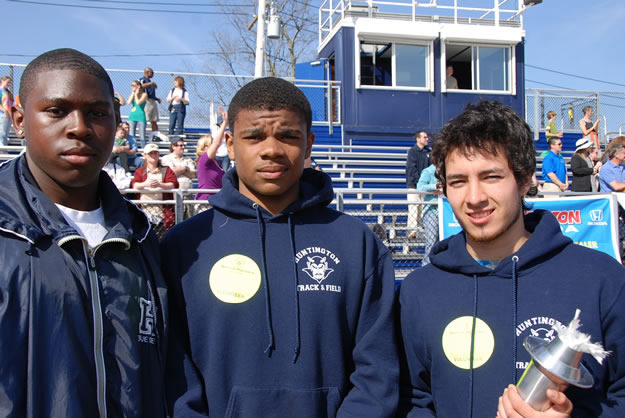 The Huntington High School boys' track and field team wants to ride the wave it's on as long as it can. The Blue Devils are rolling, powered by a cast of talented of runners and field performers.
Huntington topped Deer Park late last week, 102-38. "We just about won every event," head coach Ron Wilson said. The Blue Devils received a strong outing from "triple crown" winner Trayvon Toney. The senior captured the shot put (46'7), the 100m dash (11.2 seconds) and the discus (138'9), his favorite event.
All-State star Tyriek Johnson made his spring season debut after suffering a hamstring pull at last winter's state championship. The senior easily took the long jump (20'1) and the 110m high hurdles (14.7 seconds), which placing second in the 100m dash (11.3 seconds). Johnson also anchored the 4x100m relay team, which crossed the finish line first in 44.5 seconds.
Helping Huntington make a clean sweep of the throwing events were juniors Shaheem Lewis and Davon Nelson, who placed second and third in both shot and discus, respectively.
Freshmen Alex Alvarenga and Scott Gulizio continue to burn up the track in the distance events. Alvarenga easily won the 3200m run and Gulizio took the 800m run. "They both continue to improve every time they step out onto the track," Wilson said.
Senior Ryan Ackerman won the 1600m run in smooth fashion, crossing the finish line in a 4:47. Sophomore Y'Majesty Allen captured the 200m dash in 23.3 seconds and placed third in the 100m dash (11.8 seconds).
Novice hurdlers, sophomore Joshua Watkins and eighth grader Exayvian Crowell continue to rack up points in their events. Watkins won the 400m intermediate hurdles and Crowell placed third.
Huntington has won its first three dual meets. Tough contests are on the horizon, including a battle at home with Eastport-South Manor. The Blue Devils will compete in the Coach's Invitational at Commack this Saturday.
"We have a very small team that is really doing some great things out there on the track," Wilson said. "We are most excited about the performances of our younger athletes who are giving our older athletes a run for their money. It's great!"