Opening Day of School in Huntington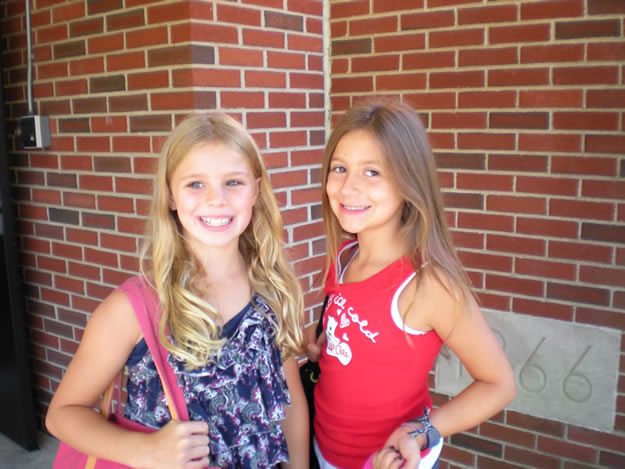 While many people wish their summer vacation would never end, there is a noticeable sense of excitement and enthusiasm in the air as the Huntington School District resumes classes this week. Officials expect nearly 4,400 students to be sitting in classrooms this year.
"It is obvious that we are currently facing educational and unprecedented financial challenges," new Superintendent James W. Polansky wrote in a letter welcoming back faculty and support staff members. "I am earnestly looking forward to working with you to build further upon district and school accomplishments, as well as to tackling those challenges head on. Working together, I am confident that we will be able to induce positive change and help our students to reach their true potential, academically and otherwise."
A small group of new teachers participated in orientation activities last week that were developed to help get them off to a successful start in their positions. Teachers were required to report to their buildings on Tuesday for a series of meetings, but many began arriving days in advance to review class lists, arrange classrooms, organize books and lesson plans and meet with colleagues.
"It has been said that a mind, once stretched by new ideas, never regains its original dimensions," Mr. Polansky told faculty members. "Let us continue to assist each other and our students in exploring new ideas and in establishing new dimensions within all spheres of our influence."
Cuts in state aid and the loss of federal stimulus funding required the district to cut millions of dollars in spending in the 2011/12 budget. The cuts led to the elimination of dozens of teaching and support staff positions, moving the district's full-day kindergarten program to half-day status and several other changes in programs and offerings.
In the run-up to the opening day, the buildings and grounds department hurried to put the finishing touches on their summer work, polishing hallway floors, delivering boxes of supplies to classrooms, preparing the grounds and setting up cafeteria tables so they are ready to accommodate the influx of students to the district's seven school buildings.
Bus drivers made dry runs through their routes in an effort to spot any potential problems. As is always the case, the district expects there will be some snafus with bus pick-ups and drop-offs. "We've worked hard to eliminate potential problems in advance," Assistant Superintendent Joseph Giani said. "Parents should call us right away at 673-2032 to report any difficulties."
Sports teams at Huntington High School have been practicing for more than a week. Teams at Finley will kick-off this week. Nurses organized their offices and just as quickly started fielding phone calls from parents. Principals have been tracking last minute changes to the list of students enrolled in their respective building.
"The community can be assured that our young people will receive an exceptional and well-rounded education in each of our schools this year," Mr. Polansky said. "All of us are committed to working hard to give students a great learning experience."