NFL Players Urge Good Choices
at Assembly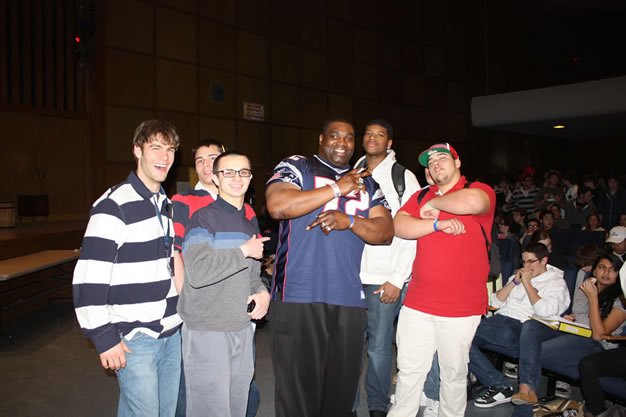 These are really big guys. Keith Davis and Devin Wyman played in the NFL and their message at Huntington High School last week hit the 1,200 students seated in the school auditorium just as hard as the pair hit opposing players on the field.
The duo held the teenagers spellbound for an hour as they discussed "Choices," the topic of their presentation, which was sponsored by the district's Arts-in-Education committee.
The assembly program began with some lighthearted fun and banter. There were various demonstrations of strength. Mr. Davis bent a steel rod into a U shape while holding it in his teeth. He said the U was meant to highlight that "You are special because you are one of a kind inside."
Mr. Wyman did perfect push-ups with students of varying weights standing on his back. He also performed a weight lifting exhibition. Oh, the "weights" were actually students clinging onto either end of the bar and being pressed into the air.
Mr. Davis, a 6'1, 265 lb. former linebacker for the New York Giants, owns two Rose Bowl championship rings from his playing days at USC. He graduated with a degree in business finance and owned the team's highest grade point average. He can bench press 515 lbs. and leg press 1,800 lbs. He lives in Dallas with his wife, Sara, a former UCLA sprinter and NCAA All-American and their two sons.
The 6'8, 335 lb. Mr. Wyman earned a scholarship to USC and graduated as an honors student at Kentucky State Univ. Known as the "Big Machine" partly because he could sprint 40 yards in 4.6 seconds. He played defensive tackle in the NFL for the New England Patriots, Minnesota Vikings and Kansas City Chiefs and earned two Super Bowl rings. On his NFL locker door he taped a statement: "If I'm trying, I'm flying. If I don't, I won't." He said he's proud of his wife and children and the life he has been able to create.
Poignant Personal Stories
The former players' personal stories were especially hard-hitting and poignant. They explained how they found the inner strength to rise above the obstacles that a hard life had put before them and were able to succeed in school, sports and their personal relationships. 
The football stars told the teenagers that having 'sight without vision' is worse than being blind and that each person is in charge of the choices they make and the voices they listen to in life. 
The pair spoke from sobering personal experience. When Mr. Davis was just four years old, his drug-abusing father committed suicide. His mother was an alcoholic and he grew up in a rough area of Los Angeles, attending 19 different schools by the time he reached 10th grade. Mr. Wyman said that when he signed a NCAA letter of intent to attend USC at a press conference at his mother's house, the police also showed up.
The overriding message was that making good choice and working hard ultimately pays off. The players noted the length of the average NFL career is just three years, so studying and finishing school is a must, even for the best high school athletes.
Crowd Lingers after Assembly
When the assembly program concluded, many students and teachers lingered behind to speak personally with the two inspirational men. Teenagers said they felt like the two players were talking right to them during the formal presentation. Their message of persevering and focusing on "dream makers" instead of "dream breakers" to help make better choices appeared to be roundly welcomed by students. 
Principal Carmela Leonardi said the assembly program was well-received. "I was impressed by the confidence with which the presenters brought out sensitive topics," she said. "Their message was one of taking responsibility for our behavior and not dwelling on the past but planning for the future and having a vision. This message was just as meaningful for the young people in the audience as for the adults."
Ron Wilson, a high school dean of students who also coaches the varsity boys' winter and spring track teams and the JV football team, said that after the presenters talked about not walking around with your pants dragging, everyone on his team "was pulling up their pants on their way down to practice.
"This was the perfect message for our students," said Youlanda Carey, a high school security guard. "They had a profound affect on everyone. Every student was talking about how it influenced and encouraged them to try harder and make better choices.  They saved some lives today."
 "We are very grateful to the Arts in Education committee for researching and making available such motivational presentations," Dr. Leonardi said. 
AIE Committee Active
"The Arts-in-Education committee strives to bring extraordinary people to our schools whose own actions provide a powerful and helpful message," said Joan R. Fretz, district director of fine and performing arts. During the past few years, they have arranged for many spellbinding presentations that give students real life examples of the importance of taking responsibility for your actions and choices. Many of the speakers have demonstrated how loving learning, craving challenge, valuing effort and persevering in the face of obstacles has helped them to have successful lives. These happen to be the same attributes that researcher Carol Dweck calls having a 'Growth Mindset.'  People with a Growth Mindset are mastery oriented and believe you can get better at anything you work harder at, see failure as a signal to change your strategy, and don't blame others for their struggles."
Mrs. Fretz aid the district is indebted to the AIE committee's volunteers "for working tirelessly to provide meaningful and often life changing experiences for our Huntington students."