Fante's Run of Excellence Culminates with Address
Ambassador Carolyn Fante? It has a nice ring to it, doesn't it? Secretary of State Fante? At Huntington High School she earned a reputation as a hardworking, articulate and brilliant teenager who while a serious scholar, isn't afraid to have fun.
Ms. Fante's run of excellence culminated last Friday night when she gave the keynote commencement address as valedictorian of Huntington's Class of 2011. She spoke with the same grace, dignity and confidence that has helped define her life in the district.
The newly minted alum packed more accomplishments and experiences into her four years in the Huntington School District than most students manage to do over the entire course of their K-12 education.
When she arrived from Brooklyn for the start of her freshman year, Ms. Fante carried an assortment of hopes and dreams and she realized every one of them in a school and community she quickly embraced and which put its collective arms around her.
"The talents of my classmates have never ceased to amaze me, whether in theater, athletics, art, music or academics, we all have so much that we bring to the table," Ms. Fante told a commencement crowd of more than 1,500 filling the high school auditorium. "I am surprised everyday by the things my classmates have done. Don't forget about what you have achieved in high school and keep building on it because each of us has the ability to do something great and wonderful with our futures."
Ms. Fante has immersed herself in Huntington's most challenging courses and played a role in everything from honor societies and homeless shelter initiatives to the high school newspaper and the Blue Devil girls' soccer team. Along the way she has earned the respect and admiration of classmates from every race, creed and socio-economic background. Did I mention she has a sensational sense of humor, too?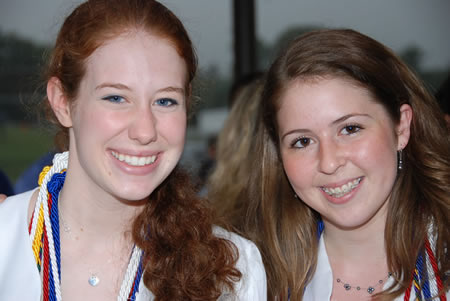 "Although her grades and club memberships may give this illusion, Carrie is not a slave to her education," said classmate Danielle Cerezo, who introduced Ms. Fante to the crowd and who is headed to SUNY College at Geneseo. "She is good company, an excellent book recommender, and an incredible friend. She is willing to go to great lengths, both literally and figuratively, to see the performance of one of her friends. And we always have a great time. Carrie is a wonderful person to be around. She is constantly happy, bringing sunlight to any situation. I am so blessed to count her as one of my best friends."
The future is shaping up rather nicely. Ms. Fante will attend the University of Pennsylvania in the fall. She is interested in studying international relations with a career in America's diplomatic corps a legitimate possibility.
"It's not just the successes that we must learn from and carry with us," said Ms. Fante in her commencement address. "There is just as much that we can learn from our failures. In college and in life we are going to have to be prepared to deal with failure – we have to learn from it and not be discouraged by it. We don't have to be perfect at something to enjoy doing it. I can easily admit that I will never be a professional soccer player or even a varsity soccer player in college, but I still love playing soccer and want to keep playing. I am also not the stereotypical valedictorian who has never gotten a bad grade in her life."
Ms. Fante said that when "something happens, such as getting a 13 on a chemistry quiz, the only thing you can do is study harder for the next one, or take a different approach to studying. Never be afraid to ask for help if you need it and never be discouraged because something didn't work out the first time. Everyone sitting here today has some amazing talent that they will find, if they are willing to keep looking."
There haven't been too many grades of 13 over the past four years. Instead Ms. Fante has set a standard of excellence that has helped motivate and inspire classmates who have also pursued academic excellence.
"Now four years since we have started high school, I think we have all changed tremendously, and we will continue to change and grow in college," Ms. Fante said near the end of her address. "I am now so grateful for my experiences at Huntington High School, both the good and the not so good. I hope my classmates can say the same."