Huntington G.O. Enjoys
Sensational Year
The Huntington High School General Organization is closing out a banner year. The G.O. has taken the lead in numerous charitable, social, spirit-building and school improvement activities.
The organization has been led by dynamic senior Alexandra Kiley. The teenager, who is headed to Harvard College in the fall, said she "had incredible resources at my disposal. I was really able to take advantage of our great advisors, dedicated officers and our funds to do a lot in the school."
Faculty advisors Anthony Troffa and Fred Bisogno worked closely with Ms. Kiley and her team of officers to pull off many successful events. "I'm happy to say that student government didn't stick to the calendar completely," Ms. Kiley said. "In addition to our regularly scheduled events like Homecoming, Safe Halloween, Playfest and Battle of the Classes, we branched out into community service projects and other fun school events."
Corps of Officers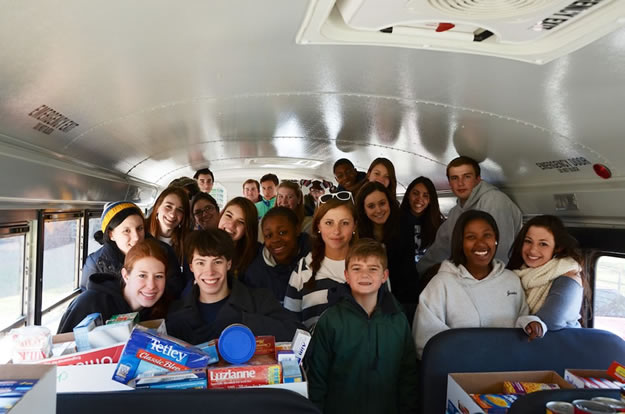 Ms. Kiley's corps of officers included Richard Gray (vice president), Olivia Weller (treasurer), Shayne Larkin (recording secretary), Lauren Corcoran (corresponding secretary) and Kyle McCartney (historian).
While the G.O. stuck with many traditional events that date back decades, the organization also wasn't afraid to try something new. For example, the group introduced a "holiday face-off," which immediately proved popular.
"I had the idea for a winter themed field day," Ms. Kiley said. "Admission was an unused toy to make the holidays happier for our own community members. We ran events like 'pin the candle on the Menorah' and a gingerbread house decorating contest."
The senior said she "personally made the mistake" of volunteering for the fruitcake eating contest. "You'd think since I was running the event I would know just how gross fruitcake really is but that didn't stop me from giving the competition my all," Ms. Kiley said. 
"I feel that this year's student government was very special, especially since Ally Kiley and [junior class president] Joe Straub took the lead on many of our projects," Mr. Troffa said. "Ally is a master organizer with many great ideas and the ability to put them into motion. She spearheaded our food drive and coordinated with the local supermarkets and elementary schools. All of our projects were successful and we managed to raise a lot of money for our school and those in need."
Spirit Week Fun
Another new event created by the G.O. was spring spirit week. "The spirit week was aimed to promote altruism in our school community and we used it to tie together 'Battle of Classes' and 'Stuff the Bus.' 
The spirit week attire ran the gamut as students came dressed as cowboys or in pajamas or even in neon outfits. The teenagers helped the G.O. collect enough non-perishable food items to completely stuff an entire school bus. The goods were delivered to the Community Food Council and the St. Hugh's Church food pantry.
Another G.O. initiative involved reaching out to the community to help local hero James Byler, a Huntington High School graduate who was seriously injured while serving as a US Marine officer in Afghanistan. Students sold rubber "Byler Bracelets" and raised more than $2,000. The funds were donated to the Byler family to help defray costs associated with making their home handicapped accessible.
"I definitely wouldn't have been able to accomplish this much in student government without my advisers, Mr. Troffa and Mr. Bisogno," Ms. Kiley said. "I'm sure they'd tell you, or complain to you, themselves about how often I was in their classrooms pitching new ideas, making flyers or freaking out about an upcoming event. I was very lucky that they pretty much gave me free reign with planning all my crazy events, such as an end of the year carnival."
During these final weeks of school, Ms. Kiley was in the G.O. advisor's rooms at least once a day, even when "senioritis" was "in full swing," she laughed. Planning for the carnival was an arduous task, including organizing games, ordering food and making sure the dunk tank was on site. "When the carnival was canceled due to the heat, they were also there to cheer me up," said Ms. Kiley about the two advisors.
"Although it never happened, I want people to realize how much planning and hard work went into that day and the carnival," Mr. Troffa said. "It was Ally's vision and she, once again like all other events, took the leadership role. Ally deserves all the best and Harvard is lucky to have her."

G.O. Very Successful
"G.O. this year was very successful outside of the carnival issue," Mr. Bisogno said. "In year two of 'stuff the bus' we filled the entire bus. We may go for two busses next year and extend our food bank donations to several other facilities. The kids would love to continue to help the Byler family in whatever capacity that we can. We had a very successful carnation day this year, as well. We sold out two days prior to the actual day. It's the first time that has happened in four years.
As the Class of 2011 graduates this week, Messrs. Troffa and Bisogno are thinking about the future. "We are looking forward to next year's projects and fresh ideas from our new officers," Mr. Troffa said. "We have faith in our new G.O. President, Mackensie Wall and the rest of next year's student government to carry the torch that Ally and the other graduating officers have left behind. They will be greatly missed!"
"G.O. really seemed to center its attention on the theme of 'Community First' this year," Mr. Bisogno said. "Anthony and I are excited for next year as well. It is amazing to see young people step up and take ownership of the town in which they live. Next year's G.O. group looks to be rather large. We had several positions that were hotly contested in this year's elections. But, our philosophy is win or lose we want all students to be part of the G.O. There is plenty to be done and the more hands we have the merrier."