ATH Presents Scholarship to
Tara Narine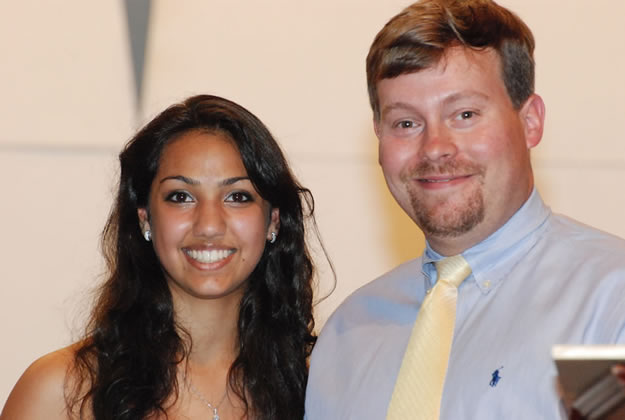 The Associated Teachers of Huntington presented a $1,000 scholarship to Huntington High School senior Tara Narine at this month's senior academic awards night. She hopes to become a math teacher.
Huntington social studies teacher and ATH Vice President James Graber made the presentation on behalf of the ATH before a crowd of about 300 students and their family members in the high school auditorium.
The ATH is the professional organization representing teachers in the district. For the past four decades, the group has presented an annual scholarship to a graduating senior who plans to become a teacher.
Ms. Narine was an intern this year with Huntington High School science teacher Lori Pyzocha Kenny, gaining practical experience for her future career. While she is going into SUNY College at New Paltz as a math major, the teenager isn't closing the book on a possible career as a science teacher. She has a wait-and-see attitude.
"She is enthusiastic, well prepared and is an excellent teacher," Mrs. Kenny said. "She is highly dedicated to the success of her lessons and employing differentiated instruction."
Those seeking the ATH award are asked to complete an application that includes an essay detailing their plans to become a teacher. The scholarship is supported by membership dues paid by Huntington's teachers.
Ms. Narine earned a Gold Award in Girl Scouts, an activity she has been in since kindergarten. Her culminating final project involved bringing speakers into district schools to discuss the dangers of heart disease along with prevention strategies. "I am hoping the school will continue this for years to come because it's really important for people to know these dangers as young as possible," she said.