Jim Polansky Settles in
as Superintendent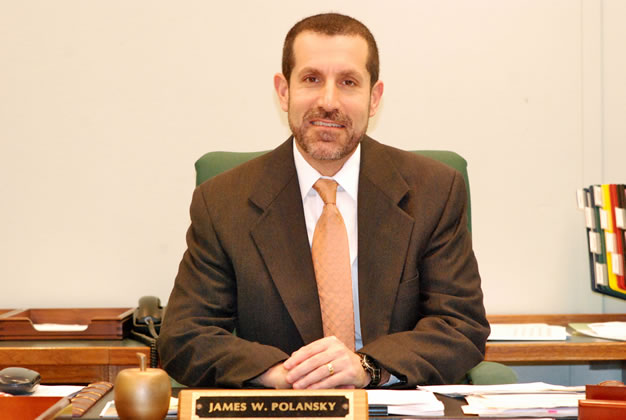 While summer vacation means a break for most students and teachers, James W. Polansky is working long hours, just weeks after beginning his job as the Huntington School District's new superintendent.
A veteran administrator known for rolling up his sleeves and paying attention to even the smallest details, Mr. Polansky is at the district office early every morning and stays busy touring school facilities room-by-room, poring over state test results, studying academic programs and course offerings and meeting with teachers and colleagues in administration.
"I am genuinely grateful and honored to serve as Huntington's superintendent," Mr. Polansky said. "I am eager to begin our work together in building upon a strong educational foundation, the rich history and traditions that characterize our schools and community, and the sense of family and pride shared by the diverse individuals and groups within."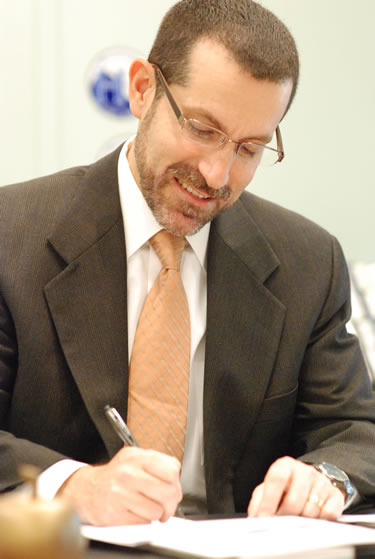 Mr. Polansky, who is widely known as Jim, was most recently the South Huntington School District's assistant superintendent for personnel and district services. Prior to his elevation to central administration he served as principal of Walt Whitman High School, completely turning around a struggling building and earning the 2010 New York State Principal of the Year Award.
Huntington's new educational chief assumed leadership of the district on July 1 when he took over from retiring Superintendent John J. Finello, who served a decade in the post. Mr. Polansky and district trustees agreed upon an initial three year contract that runs through June 30, 2014.
As he gets to know district personnel, Mr. Polansky is also getting a firm handle on Huntington's most pressing issues and is working on plans to address them. He has developed a set of "entry goals" that include:
• Develop and ensure effective District governance through meaningful and positive Board of Education-Superintendent-community relations;
• Increase achievement levels for all students;
• Improve public trust, commitment, and confidence through open and honest communication and actions;
• Examine current status and identify additional opportunities to increase organizational effectiveness and efficiency, as well as fiscal responsibility;
• Establish a supportive and positive District climate and culture, focused on promoting student achievement;
• Establish a clear and definitive strategy to address perceptual and factual issues related to school safety, security, and climate for all schools.
"I intend to use sound judgment and thoughtful decision-making as we implement carefully considered short, intermediate and long-term strategies in an effort to achieve these goals."
While he's not a "micro-manager," Mr. Polansky readily admits that he likes "to be involved in everything" and he's earned a reputation for being a constant presence in classrooms, around schools and at extracurricular and athletic events. He enjoys interacting with students, their parents and teachers and is relentless in pushing for improved academic performance.
In an effort to learn as much as he can about his new district, Mr. Polansky has invited incoming seniors and their parents to call his office and make an appointment to meet with him to discuss their experiences in Huntington. He's also reaching out to the parents of incoming kindergarten and first grade students for them to come in for an introductory meeting. The sessions are expected to stretch into the fall.
A graduate of SUNY at Albany (BA cum laude), Mr. Polansky earned a Master of Business Administration degree at Hofstra University and an advanced graduate certificate in educational administration at SUNY at Stony Brook. He holds permanent teaching certificates in biology/general science, chemistry, Earth science, mathematics and business/distributive education.
Mr. Polansky began his career at Syosset High School where he worked as a science teacher from September 1991 to January 2001. He coached wrestling, soccer, baseball and softball there. He later served as the Oyster Bay-East Norwich Central School District's K-12 director of science, a position he held from January 2001 to July 2002. Mr. Polansky went on to complete a stint as Walt Whitman's assistant principal prior to assuming the principal's post.