Steve Correll, the
All-American Teenager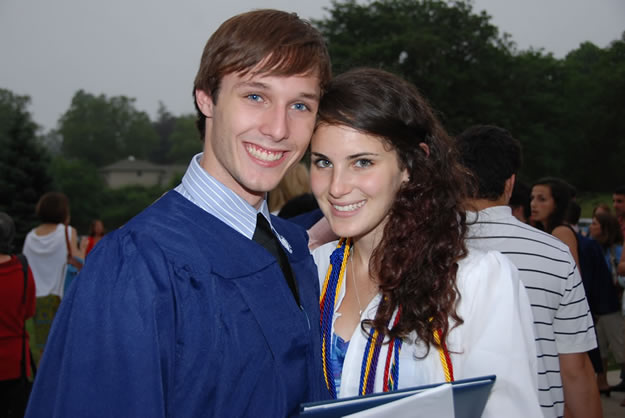 Steve Correll is the All-American teenager. Funny, smart, articulate and thoughtful, the Huntington High School Class of 2011 member is just an all-around nice guy. He's even an Eagle Scout, and a happy one at that.
"I feel very lucky and am very grateful to have been born in Huntington and to have gone through the Huntington public education system," Mr. Correll said. "My experience at Huntington High School has been a great one, a continuous roller coaster full of unexpected twists and turns, one with many of ups and downs and plenty of amazing experiences. It's sad to see that this chapter of my life is coming to a close, but then again I am also very excited to see where this new chapter, college, is going to take me."
The new grad has a message to the freshmen who will flood into Huntington High School in the fall: "Time will fly by you these next four years," Mr. Correll said. "Don't take it for granted, have fun, do whatever makes you happy and always be accepting of others. That kid that is running a bit too slow in front of you at crew practice could turn into one of your best friends for the rest of your life. All you have to do is give them a shot. Ask that cute girl or boy that you talk to in gym out on a date, what's the worst that can happen? They say no?"
The teenager speaks from experience. "I've been in a relationship for just over a year with one of the most wonderful persons I have ever met, Aliyah Cohen and it all started playing volleyball in gym with her," Mr. Correll said. "You never know where life will lead you, especially at Huntington, which has seemed like a catalyst of amazing times for me these past four years. All you have to do is be yourself and put yourself out there. There are so many great people out there all you have to do is open your eyes."
Crew is a Staple
His high school years were filled with sports, clubs, close friendships and interesting experiences. Once the bell rang to end ninth period, Mr. Correll was off to dabble in various sports ranging from football to crew. He walked away with something gained from each of them.
"The Huntington crew team has been the staple of my experience these past four years, and some of the friends I've made on that team I will continue to be friends with the rest of my life," Mr. Correll said. "Sport teams are amazing at Huntington because of how they help you form bonds with your peers and coaches that can last your entire high school experience."
Perhaps the most memorable of Mr. Correll's athletic experiences came in a medal winning performance with his friends at the New York State Championship Regatta in Saratoga. "The sense of pride and accomplishment that sports can bring into your life are too great to ever be neglected," he said. "My advice to anyone would be if something interests you try it out, you can always stop if you don't like it. But the wonderful times and experiences you could possibly get out of it are too great to ignore."
An Eagle Scout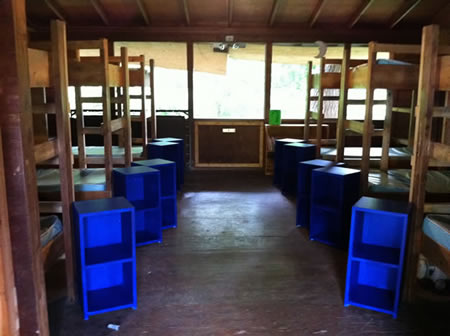 Mr. Correll received the Eagle Scout Award last month, one day before his 18th birthday. "It's nearly impossible to say how much Boy Scouts has helped me in my life and what it's done for me," he said. "I would not be the person I am today without Boy Scouts. I wrote my college essay on Boy Scouts and it has guided me into the person I am. I've become a better leader and person because of it."
The teenager's Eagle Scout project involved creating storage cubbies at the North Shore Holiday House, a non-profit organization that sponsors a summer camp for underprivileged girls. "The cubbies are going to be used by the girls to put their clothes and things in as they stay there for their two-week sessions," Mr. Correll said.
Grueling College Application Process
As is the case for many seniors, Mr. Correll's college application and selection experience was a difficult one. "The college process was a long one for me, rifled with indecisiveness and confusion," he said. "I honestly had no idea where I wanted to go or what I wanted to do with the rest of my life. As I looked around and saw people applying early decision to schools and talking about what their majors were going to be, it only added to the confusion and annoyance that was amassing at my feet. So I did what I thought was the best plan of action, apply to as many schools as possible that interested me and narrow it down as the acceptances and denials came through."
The teenager applied as an "early application" candidate to 18 colleges. "My girlfriend, Aliyah Cohen on the other hand, only applied to two schools, because she filed 'early decision' on Brown University," Mr. Correll said. "It wasn't until November that she changed her mind and applied to more schools, including the University of California at Davis, where she will be attending next year."
Mr. Correll's advice to returning Huntington High School students is to "start the college process early, know and trust yourself and apply to as many places that interest you." The newly minted alum believes that having a large list of schools to choose from in the spring "is a lot better than have a short list and not knowing what to choose."
After applying to 18 colleges, Mr. Correll sat back and watched acceptance letters start to arrive. He separated letters into two piles; one was a group of schools he could afford to attend and the other represented those that were just too expensive.
Headed to Binghamton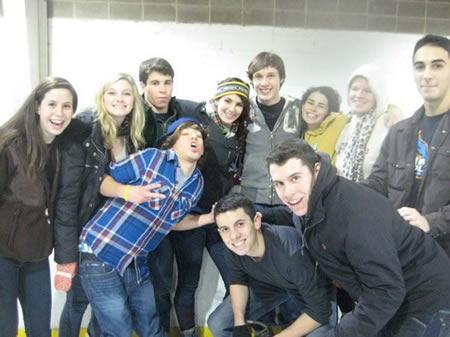 "Money wasn't on my mind when I was applying to schools, but once those acceptances started rolling in it sure became a huge factor," Mr. Correll said. "I realized that SUNY's were what I could afford and I was split on which one to choose; the University at Albany or New Paltz? After visiting and comparing I was stuck. I liked the New Paltz community so much but I loved Albany's size. Then I got an unexpected letter in the mail. It was from Binghamton University and they informed me that I had been selected to partake in a new program they created called the Binghamton Advantage."
The new initiative was created for incoming fall 2011 freshmen. Participants are simultaneously students at both Binghamton and Broome Community College.
"I will live at Binghamton in their dorms, join Binghamton clubs, do mostly everything at Binghamton, but for next year I will be taking my classes at Broome County Community College," Mr. Correll said. "If I maintain a 3.0 grade point average and earn 24 credits then I will be automatically transferred into Binghamton for my sophomore year and take classes there. I see it as a second chance. Binghamton really liked me but my GPA in high school wasn't high enough for them to directly admit me, so if I go through this program and show them that I can do it, which I know I can, then I'll be at Binghamton come sophomore year."
Political Science Major?
The teenager is considering studying political science "and I have Ms. [Debbie] Mellon to thank for that," said Mr. Correll about his Huntington social studies teacher. "She introduced me to the wonderful world of politics this past year." He immediately grasped and mastered that world, winning the Political Action Award at the senior academic awards night this past spring.
Mr. Correll was well-liked by his classmates and teachers. He enjoys a good laugh, even at his own expense and is a reliable friend and responsible student. His fine academic and co-curricular record earned him the prestigious $10,000 T. Christopher Pettit Memorial Scholarship, named for the 1963 Huntington High School alum who went on to graduate from the US Military Academy at West Point and rise to the position of president and chief operating officer of financial giant Lehman Brothers.
"During my interview for the scholarship the question 'What are you going to miss most about Huntington High School?' was posed to me," Mr. Correll said. "I said it was the people. Throughout my years at Huntington, I have met so many amazing people from teachers to kids and honestly I wouldn't be who I am today if I had never met them."
Two Special Teachers
Mr. Correll pointed to English teacher Aimee Antorino and social studies teacher Peter Crugnale as the two faculty members he developed the closest relationships with. "I had Mrs. Antorino in her 10th grade honors English class and then interned with her in 11th grade," he said. "Not only was she a teacher and mentor for me but she became a good friend, as well. When I interned for her it did something to me that I could have never foreseen. It completely revamped the way I looked at school. The curtains were pulled away and I was looking at the classroom for the first time in my life not as a student at a desk but rather as a teacher in the front of the room. It opened my eyes to a new perspective I had never experienced before and changed the way I look at school and academia for the better. I have a new appreciation for teachers that the internship gave me and it's an appreciation that I don't think will ever go away."
The teenager's experiences with Mr. Crugnale were powerful, too. "He opened my eyes in a different way," Mr. Correll said. "I didn't intern for him, but I did become really close to him, mainly through philosophy. Mr. Crugnale helped to create a new passion in me, a passion for philosophy and thought that has steadily grown throughout the years from 9th grade onwards, culminating in the creation of The Agora, Huntington's own philosophy club that Cole Peters and I created and ran this past year."
The philosophy club's creation is looked upon as an "outstanding achievement" by Mr. Correll, "one that filled me with pride when I would go into Agora meetings and spearhead philosophical discussions about whatever the topic of the day was," he said.
As he walked off the stage last month at Huntington's 150th commencement exercises, Mr. Correll was filled with a range of emotions. "I've had so many experiences in high school it would be impossible to pick through them and say which times were better than others," he said. "The people I have met and have gotten to know these past four years have been what's made my time here so amazing and I've learned so much about others and so much about myself that I can't even remember what I was like four years ago."