Southdown Math Night Adds Up to Fun
Southdown Primary School's Math Night was equal parts fun and mind-bending challenges as 80 students and parents enjoyed tackling a variety of math related games while learning from each other along the way.
The evening was designed by the school's shared decision making committee, which consists of faculty and parent volunteers. "The goal was to provide an interactive math evening for both parent and child," Southdown Principal Michelle Marino explained.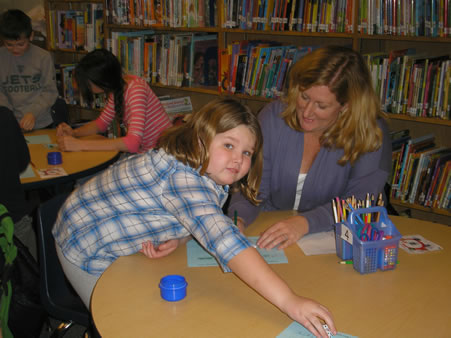 Students and their parents rotated through hands-on centers, designed around a New York State mathematics standard or "math strand," including number sense, measurement, geometry, algebra and probability.
Mrs. Marino said the activity centers "were specifically created for elementary grade level math challenges." The extensive organizing efforts of the SDM committee paid off handsomely as students and parents were immediately engaged and maintained their interest throughout the range of activities.
Some of the center activities included:
The Southdown community routinely devises imaginative learning experiences to create excitement for the youngsters attending the school. Teachers, support staff, parents and Mrs. Marino are persistent in their collective quest to see to it that students receive the most comprehensive and well-rounded education possible.
Proceeds from Math Night will be devoted to covering the cost of publishing Southdown's art and literary magazine in the spring.
Fifteen Huntington High School math honor society members pitched in by assisting at the centers and later acting as "mathsperts" during the closing challenge. This year's challenge involved a giant SUDOKU puzzle that saw nine separate student groups working alongside their "mathsperts" to arrive at a solution.
Southdown also has a tradition of massive parental involvement in school activities and educational programs. "Judging from the cheers and excitement during the closing challenge, math is alive and well at Southdown," Mrs. Marino said.