Washington Science Fair Puts Ingenuity on Display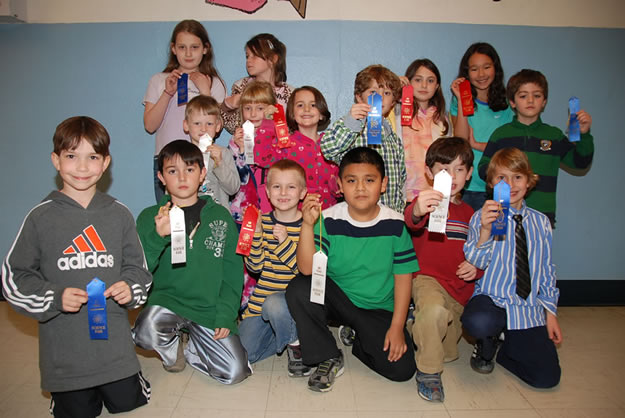 This year's science fair at Washington Primary School was a "feel good" event. How couldn't a person feel good seeing the degree of hard work, effort and ingenuity put into the dozens of individual and class projects on display in the school gym?
"The projects were fabulous," Principal Marsha Neville said. "They really were amazing. It's fun to see what our students can accomplish when they work hard."
Every class in the building developed a project along with many individual students. The results were impressive. Visitors commented on how well done the projects were and the attractiveness of each presentation.
The projects covered a wide range of subjects including the weather, materials dissolving in water, color mixes and the resulting new colors that are created, what melts ice the fastest, which boat floats the best, the fastest way to ski, how does a light switch work and which bubble gum blows the biggest bubble (Bubblicious won out).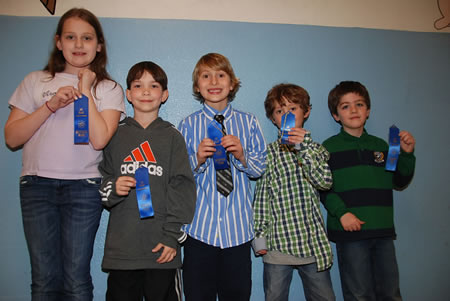 The projects also included a study of how static electricity is made, airplane designs, can a plant live without air, soil or sunlight, comparisons of adult and child heart rates, does the temperature of a hockey puck effect its speed, does the type of road surface effect speed, does hand washing with soap remove germs, erosion studies and whether fruits and vegetables can produce electricity.
There were also interesting projects on fire safety materials, water freezing, tomato DNA, can a hard boiled egg bounce, increases in heart rate due to sounds, the best pencil erasers, preserving apples, is aluminum foil or plastic wrap best to keep food cold, is a human mouth or dog mouth cleaner, comparisons of fertilizers and a host of other topics.
Every class in the school visited the fair during the day. Parents and family members turned out at night for an hour-long display. "It was a great experience for everyone," Mrs. Neville said.
The honorees included:
Kindergarten
1st place Luke DiFruscio
2nd place MacKenzie Ahearn
3rd place Timothy Kusterbeck
1st Grade
1st place Teddy Tiliakos
2nd place Emily Plachta
3rd place Emily Geller
2nd Grade
1st place John Krisch
2nd place Michael Lindemann
3rd place Thomas Fucci
3rd Grade
1st place Ryan Williams
2nd place Anna Wickey
3rd place Diego Torres
4th Grade
1st place Barbara Joy Gentile
2nd place Mia Breitbarth
3rd place James Ahearn