Catching up with 2008 Valedictorian Madeleine Jensen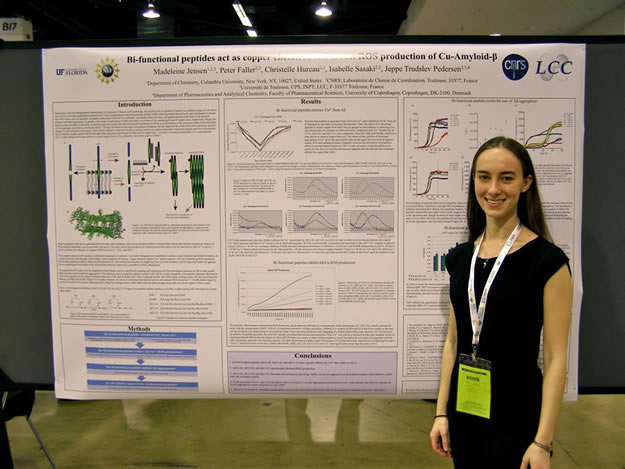 Madeleine Jensen's academic record speaks for itself. Huntington High School's 2008 valedictorian is shining at Columbia University, one of the world's premier centers of higher learning.
Ms. Jensen is rarely at rest. Her thirst for knowledge and self-improvement was evident even as a young girl. Today that same drive has reached a new level as she has increasingly sought out unique opportunities and challenges and immersed herself in scientific research.
During her time in Huntington, Ms. Jensen was president of the Habitat for Humanity chapter, an officer in school clubs and honor societies, a violinist who even performed solo and a member of the Blue Devil crew team.
Now a college junior, Ms. Jensen is majoring in biochemistry. "I love the learning environment at Columbia and the way our strong core curriculum fosters discussions outside of the classroom," she said. "Being constantly surrounded by immensely talented people with a vast range of interests has forced me to question and rethink issues I might have taken for granted before and is challenging in the best way."
Last fall, Ms. Jensen began working in a bio-physical chemistry lab at Columbia led by one of her freshman year professors, Dr. Ruben Gonzalez. "Our group is interested in the dynamics of the ribosome, an organelle that synthesizes proteins from amino acids," Ms. Jensen said. "In collaboration with other groups, we are trying to develop a detailed picture of how the peptides and RNAs that compose the ribosomal subunits move relative to each other as each amino acid is added onto a growing peptide chain. My lab is a wonderful group of people. They are all friends outside of the lab and always willing to share their experiences and advice with me."
The Huntington alum traveled to Anaheim last summer to present her research at the American Chemical Society's national meeting. "I presented a poster in the undergraduate poster session and attended many lectures on topics both familiar and unfamiliar to me," Ms. Jensen said. "It was invaluable to network with chemists and biologists in my field as I begin looking at graduate schools."
Summer in France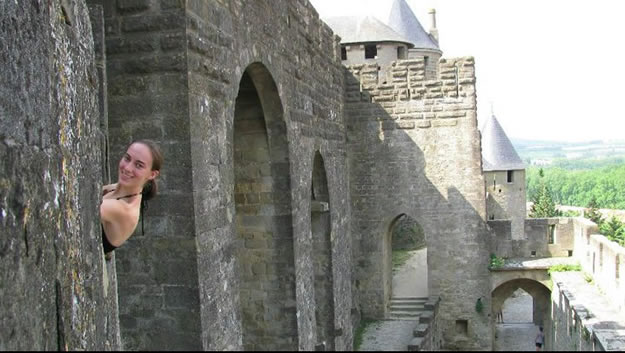 She also spent time last summer in Toulouse, France, participating in a 12-week international research experience for undergraduates organized by the University of Florida and sponsored by the National Science Foundation. It's an exchange program between France, Brazil, Argentina and the United States. One of its goals is to encourage international collaboration in the sciences.
"It was an incredible opportunity to perform independent research in another country and in another language," said Ms. Jensen about the summer program. "All of my work, including my final oral presentation, was in French - except for my Swiss advisor throwing in some German here and there.
Ms. Jensen joined a lab in France that focuses on understanding Alzheimer's disease and developing treatments for it, specifically investigating copper coordination and protein aggregation that contribute to neuro-degeneration.
"I couldn't have asked for a more beautiful place to spend the summer," she said. "There was always something going on and I had an especially fun time kicking off the summer with Fête de la Musique, a celebration of music that fills the streets of many French cities with local musicians on June 21st. There were bands playing all types of music around every street corner and some larger organized concerts in the town squares. Everyone left work early, went into the city, and spent the evening wandering from performance to performance."
While Ms. Jensen works hard, she also likes adventure and enjoys making learning fun. "During the weekends and for a week following my work in Toulouse, I took advantage of the amazing trains and cheap flights and backpacked all over Europe," she said.
Exciting Stories to Tell
The Huntington grad returned home with many exciting stories to tell. "One of my favorite trips came together by accident," Ms. Jensen recalled. "Many of my friends from Columbia went to Europe for the summer to work or study and without coordinating with each other we all planned to go to London on the same weekend. When we realized this fantastic coincidence, we made plans to meet and spent the weekend exploring the city as a group. I never would have thought that all of us would be able to meet in another city 3,500 miles from home and felt incredibly fortunate to be there."
Meeting friends on another continent was a special thrill, but not the only one. "It was great to be with friends, but one of the best parts of all of my trips was meeting people along the way and hearing their stories, perspectives, and ideas," Ms. Jensen said. "Talking to people from so many diverse backgrounds gave me insights into different cultures and values that I couldn't have learned in a course or from a newspaper, and it ended up being a wonderful way to find out which local places to visit as I travelled."
Ms. Jensen is also Columbia's Habitat for Humanity coordinator. The college's chapter was established last year. "We build six times each semester and work with many partner organizations, such as Publicolor and Rebuilding Together NYC, to refurbish schools and community centers in addition to our work with Habitat," she said.
The Huntington grad also leads a Relay for Life team each year with Columbia's Habitat volunteers. Last Saturday the group walked for 12 hours to raise money for the American Cancer Society and to build awareness.
This year, Ms. Jensen also began writing and reviewing articles for the Columbia Undergraduate Science Journal and the Columbia Science Review, "which has been a great introduction to the publishing end of scientific research," she said.
This coming summer will be a busy time for Ms. Jensen. The Amgen scholar's program will sponsor her continued work in Dr. Gonzalez's lab. "I'm looking forward to having uninterrupted time in the lab and excited that I will get to enjoy all of the summer events in New York City," she said.