Talented Musicians to Play at
Free Concerts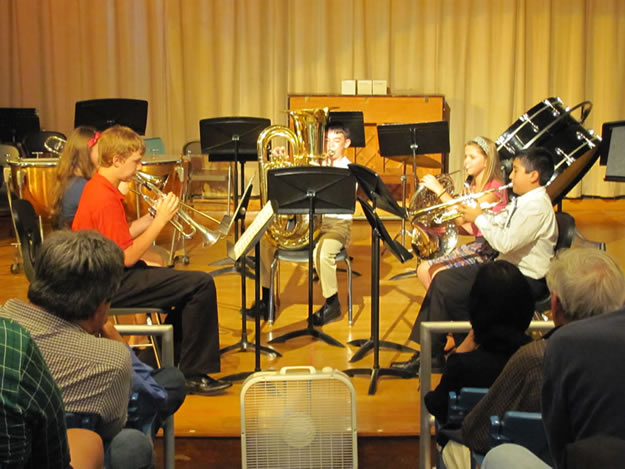 Many of Huntington High School's most talented musicians will entertain the public at two free concerts next Tuesday and Thursday nights.
The chamber music concert on Tuesday, April 12 will give small ensembles at different levels an opportunity to play for each other and allow the audience to experience a series of outstanding performances.
The concert, which is open to the general public, will be held at 7:30 p.m. in the J. Taylor Finley Middle School large group instruction room, as that building's auditorium is formally known.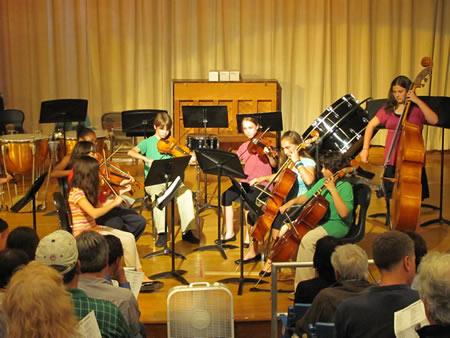 "The chamber concert is our annual showcase of small ensembles that the students are preparing for New York State School Music Assn. adjudication," said Joan R. Fretz, district director of fine and performing arts. "This concert gives them a chance to perform their ensemble publicly before the NYSSMA festival takes place. It's a great way for the younger students and their parents to see the level of performance ability achieved by the Finley and high school students."
Chamber music typically includes only one player on each part, so each student has significant individual responsibility to maintain their part and blend their style of playing with the others in the group. There is no conductor for a chamber ensemble, so typically the lead player in the group has to provide a gesture to indicate the tempo, start and end of the piece.
The student-musicians typically range from grades 5-12. Music teacher Frank Battista is coordinating the concert. "The LGI is a wonderful hall for small ensemble performances," Ms. Fretz said.
The Huntington High School honors ensemble concert is slated for Thursday, April 14 in the auditorium. All residents are welcome to attend the free concert. It will feature all four of the honors ensembles that rehearse during evening hours, including the jazz ensemble, accapella choirs, chamber orchestra and wind ensemble.
Huntington High School music teachers Jason Giachetti (jazz), Veronica Mainville (choirs), Lisa Leonardi (orchestra) and Brian Stellato (wind ensemble) will handle directing duties.
"Community members who love music are encouraged to attend these concerts," Huntington Superintendent John J. Finello said. "No one will leave disappointed after listening to these young musicians and marveling at their talent. These are special nights."