Blue Devil Band on the March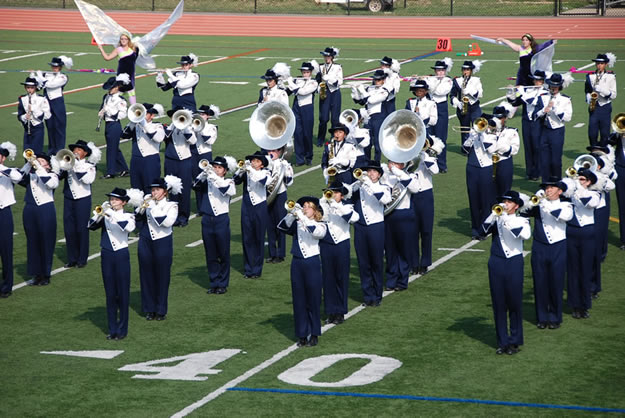 The Blue Devil marching band is gathering steam for an active fall season that will include several parades and halftime shows and numerous competitions culminating in the state championships at Syracuse University's Carrier Dome.
The band is directed by teachers Brian Stellato and Jason Giachetti. The pair is supported by a large cast of band advisors. This year's drum majors include Natasha Stollmack, Kenny Stropoli and Stean Harkins. Anne Scott is the field major.
The competitive season began Sunday, September 19 in Brentwood. The Blue Devils competed in Copiague last week and will be at Walt Whitman High School this coming Saturday night. The group will also be competing at Arlington and Mineola. The trip to the state championship is set for October 30-November 1.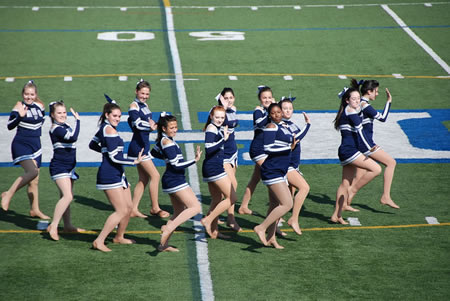 The Blue Devils have shown improvement this fall, with the band's score in the Copiague competition rising seven points from the first week's effort. The group has a powerful sound and an impressive artistic flair.
The Blue Devils receive incalculable support from the Band Parent Association whose members include both current and alumni parents. They help the band in ways too numerous to list, such as helping to transport equipment and supplies and supplying refreshments during band camp.
The BPA is committed to helping the band directors, making all of the physically overwhelming tasks of moving a 115 member band to various competitions and parades a lot easier.
This year's Band Parent Association executive board is led by co-presidents Martha Ironman and Phil Antonucci. It also includes vice-president Dee Antonucci, corresponding secretary Jennifer Petrozzo, recording secretary Lisa Baker and treasurer Eric Wood, as well as Paula Kavanagh (building use representative, head chaperone), fundraising coordinators Laura Gellerstein and Jennifer Petrozzo, co-head "roadies" Jennifer Schmelter (co-head roadie), Jim Scott (co-head roadie), Daphine Harkins (head chaperone), Steve Corrao ("list keeper"/eBoard) and Janet Maiorello ("list keeper"/eBoard), Maria Noon (uniform mistress), Theresa Morris (merchandise coordinator) and Peg Reinertsen (color guard representative).
At-large executive board members are Kathy Solomowitz, Terry Ironman, Dorothea Bailey, Bruce Stollmack, Steve Bialkowski, Joe Rienzo, Jessie Ortiz and Ron Colby.
"It is a wonderful feeling watching band members begin the season at band camp and continue to improve all year long," Mrs. Ironman said. "This year's band show is full of energy and it is an exciting show to watch. I am so proud of the Blue Devil marching band and all of its members!"
The Blue Devil band will be marching in the Huntington Awareness Parade this Saturday (October 2) morning, performing a halftime show at the Huntington High School football game and competing at Walt Whitman High School at night.