Brindley Honored in Congressional Art Competition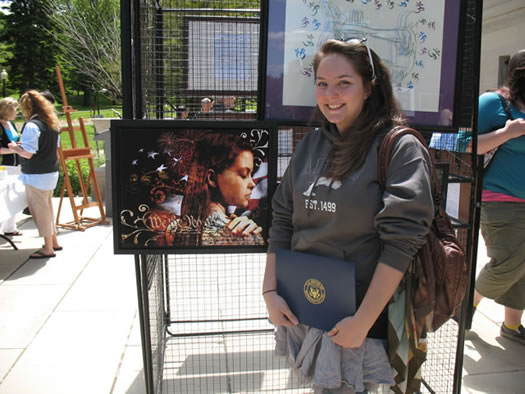 Huntington High School senior Bo-Ashley Brindley won first runner-up honors in United States Representative Steve Israel's Congressional Art Competition.
Huntington High School students Eric Guardado, Harrison Rose, Nisha Kapur and Sarah Cohn also participated in the prestigious competition sponsored by the Congressional Institute and members of the U.S. House of Representatives.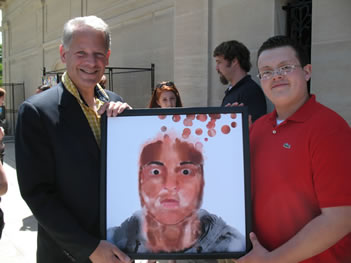 The artwork was displayed on a recent weekend during an outdoor awards ceremony on the steps of the Heckscher Museum. Pieces spanning paintings, drawings, collages, prints, computer graphics, mixed media and photography can be entered in the competition, which is now in its 29th year.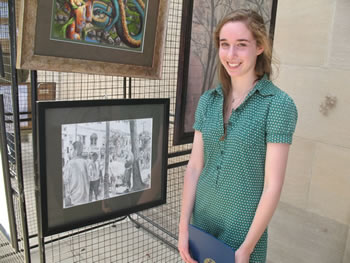 The five Huntington High School students are enrolled in classes taught by art teachers Kasmira Mohanty and Kristin Singer. "This is a wonderful accomplishment for Bo-Ashley, who is very talented," Superintendent John J. Finello said.
Since it began in 1982, the competition, formally known as "An Artistic Discovery," has drawn entries from 650,000 high school students. One piece of artwork is chosen from each of the 435 House districts and displayed for one year in the tunnel that connects the Cannon House Office Building and the U.S. Capitol. The pathway is heavily traveled by congressman and congressional staffers.
All graphics, photographs, and text appearing on the Huntington Public Schools home page and subsequent official web pages are protected by copyright. Redistribution or commercial use is prohibited without express written permission. Comments or Questions? email the Public Information Office