First Lady Invites Fashion Students to Washington, D.C.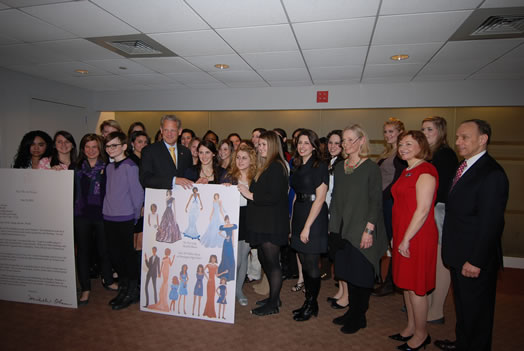 There's been a whirlwind of activity for the students and teachers who have helped make Huntington High School's fashion program the envy of many Long Island districts ever since First Lady Michelle Obama invited the group to Washington, D.C. to participate in events surrounding the donation of her inaugural gown to the Smithsonian's National Museum of American History.
Thirty current Huntington students along with fashion teachers Kristin Singer and Amy Worth, art and computer graphics teacher Ayallah Jeddah and Joan Fretz, district director of fine and performing arts, departed for the nation's capital early Monday morning.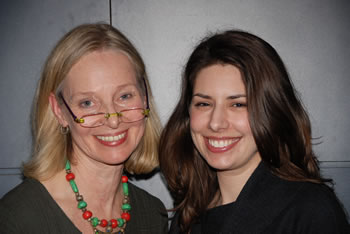 Congressman Steve Israel gave the group a hearty send-off last Friday afternoon at an upbeat press conference that celebrated the students and their teachers, their colorful and creative designs and Huntington's innovative fashion program.
"This is such a special occasion and I am so proud of our students for their creativity, hard work and thoughtfulness," Mr. Israel said. "I am also thankful for their teachers and their parents who are joining us here today. Our communities need more teachers like Kristin Singer and Amy Worth, who think out of the box and encourage the same in their students. We also owe credit to the parents who raised these creative students who are demonstrating a great dedication to their craft."
Mr. Israel said he is having a statement placed into the Congressional Record honoring the Huntington students and teachers on the occasion of their trip to Washington, D.C. and being singled out by Mrs. Obama and the Smithsonian.
With TV cameras recording the event and reporters jotting notes, Mr. Israel called on a number of students to stand up and speak about their respective dress designs. The teenagers did so flawlessly and then reveled in the attention, happily submitting to on camera interviews as Mrs. Fretz, Huntington School Board Vice-President Emily Rogan and Superintendent John J. Finello stood nearby beaming with pride.
The frenzied activity was initiated when the White House called Huntington High School on the afternoon of February 19. The First Lady was planning the donation ceremony of her inaugural gown to the Smithsonian's First Ladies Collection and she wanted Huntington fashion program students to be there. Mrs. Obama had remembered a fashion illustration project sent to her by the students ten months earlier.
The students invited to make the trip include Samantha Amorison, Meleika Amos, Jenny Asaro, Page Bond, Morgan Brown, Shelby Clark, Marie Clifford, Aliyah Cohen, Alyssa Cortes, Stasa Doscas, Gabriella Ferreira, Jessica Flores, Kianna Freitag, Marissa Goldstein, Sarah Gordon, Richard Gray, Jennifer Hajny, Yvette Hallman, Diana Harvey, Holly Helstrom, Alexandra Krapf, Anna Lemmon, Fatima Moreno-Boles, Marissa Schedler, Sabina Schneider, Shealyn Scully, Nitika Shah, Katherine Shirley, Catherine Tacopina and Allison Wieland.
Last March, Huntington fashion program teachers Kristin Singer and Amy Worth challenged their students to create an inaugural dress design that would reflect Mrs. Obama's essence and spirit. The students studied Mrs. Obama's fashion style and the work of prominent designers.
The teachers shipped a book of more than 50 original dress designs to the First Lady and asked her and her daughters to select their favorite. To their surprise, Mrs. Obama sent them a personal letter in May, commending the students' hard work and writing "They're all such elegant, creative works, and I would be proud to wear any of your creations."

"The students were incredibly motivated to do this project because they were not just making designs for Mrs. Obama, they were sending their work to her," Mrs. Fretz said. "If you knew that the First Lady would be checking your homework, you would be doubly inspired to show her your best effort and creative ideas. That was the magic of this assignment."

With the unique project still in mind, Mrs. Obama asked the Smithsonian to create a special mentoring experience for the fashion students on March 8-9. Huntington is the only school group participating. Students will meet with leading fashion designers and participate in numerous events, including meeting Mrs. Obama. Congressman Israel is also working to arrange a private tour of the U.S. Capitol.

"As arts educators, we appreciate Mrs. Obama's recognition of the project and our students' creativity and effort," said Mrs. Fretz, who worked non-stop for several weeks planning the trip. "The fashion program provides students with real-world problem solving challenges that encourage creativity and make learning relevant. No matter what subject you teach, if you believe in your students' potential, make learning relevant and focus on their strengths instead of their weaknesses, all students will be successful."
All graphics, photographs, and text appearing on the Huntington Public Schools home page and subsequent official web pages are protected by copyright. Redistribution or commercial use is prohibited without express written permission. Comments or Questions? email the Public Information Office