Howell Reaches Pinnacle of College Lacrosse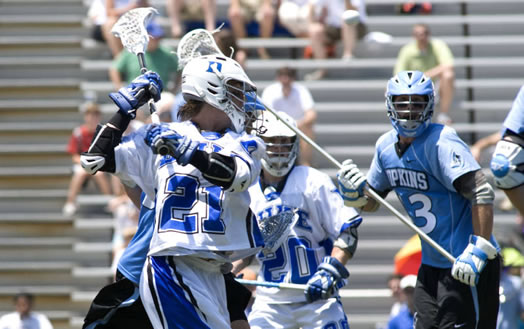 Zach Howell reached the pinnacle of NCAA Division I lacrosse Monday afternoon after the Huntington sports legend notched two goals and an assist to help lead Duke University to the national championship with a 6-5 overtime victory over Notre Dame before a crowd of 37,126 at M & T Bank Stadium in Baltimore.
One of the greatest players in Huntington lax history, Howell's first goal in the NCAA finals tied the score at 1-1. In the third period the Duke junior put his team ahead, 4-3. He later assisted on the goal that knotted the score 5-5, and ultimately sent the contest into an extra frame.
Defense ruled the day as the 11 goals produced by the two teams made it the lowest scoring championship game in NCAA history. "We knew that was the challenge coming into the game, and the coaches did a great job of telling us, 'Don't change anything that we do. Keep shooting, keep taking opportunities, and they'll fall,'" Howell said after the thrilling victory. "And I think that, since we stayed on it, nobody got discouraged when [Notre Dame goalie Scott Rodgers] was making the good saves. We just stayed on it, and that just helped us grind through."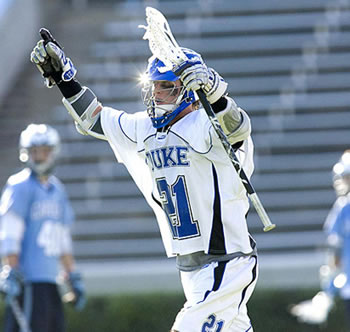 Ironically, both Huntington and Duke are nicknamed the Blue Devils. Following a high school career that saw Howell compile some mind-numbing stats, including 146 goals and 123 assists, the 6'0, 190 lb. 20 year old star is well on his way to becoming one of Duke's best players ever.
After an impressive performance that included 10 goals and 12 assists during the post-season run, Howell was named to the NCAA Division I Championship All-Tournament team. In Duke's exciting 14-13 NCAA semi-final victory over No. 1 Virginia last Saturday night, Howell contributed two goals and an assist before a huge crowd of 44,389.
Howell's 51 goals (including three game winners) this season mark just the ninth time in Duke lax history that a player has scored 50 or more goals. He had a career high seven points earlier this spring against Penn State after tallying five goals and two assists.
Howell, who earned a spot on the Atlantic Coast Conference All-Academic Honor Roll as both a freshman and sophomore, (the ACC hasn't announced this year's honorees yet), had a remarkable 10 hat-tricks this spring. He will enter his final season at Duke with 91 goals, 42 assists and 72 ground balls.
Three years after he graduated from Huntington High School, Howell's reputation among former teachers and coaches is still glowing there, too.
An All-State football player as a Blue Devil senior, Howell completed 146 of 211 passes for 2,368 yards and 20 touchdowns – the most on Long Island. In three years as the varsity quarterback, he compiled a 73 percent completion rate, connecting on 367 of 501 passes for 5,337 yards and 50 touchdowns. His best game ever came in the 2006Suffolk Division III semifinals against Kings Park when he threw for 472 yards on 10-of-17 passing.
He was even better on the lacrosse field, leading Huntington to three straight Suffolk and Long Island crowns and a pair of state titles. Howell earned All-American honors and was recruited by the top college programs in the nation before settling on Duke.
All graphics, photographs, and text appearing on the Huntington Public Schools home page and subsequent official web pages are protected by copyright. Redistribution or commercial use is prohibited without express written permission. Comments or Questions? email the Public Information Office