Catching up with Christine Kang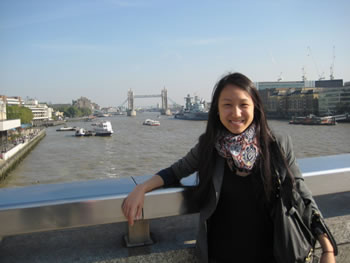 Christine Kang was one of the first superstars of Huntington High School's fashion program. Her talent was obvious and she received the guidance and encouragement to climb to the next level, and what a climb it's been.
Ms. Kang, a 2008 Huntington High School graduate, is in her second year at the London College of Fashion, part of the University of the Arts London. She is studying fashion design and development.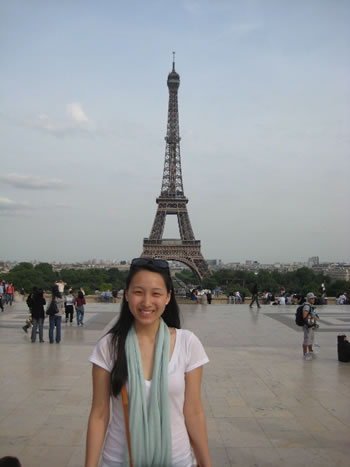 "As a part of my course, I have had the opportunity to obtain practical experience by constructing garments and being involved in the production process," Ms. Kang said during a long distance interview. "My degree has given me the chance to be creative and develop many skills. Along with my degree in fashion design and development, I am also currently enrolled in cultural studies (history of fashion and consumer/consumption studies), buying and marketing, and public relations. The school allows me to get involved in all aspects of the fashion industry, which has been amazing."
As a Huntington senior, Ms. Kang won the art department's Visual Arts Award and the Parent Appreciation Award. She was known by teachers and classmates as a dynamically creative and determined young woman
"Moving to London last year was the most independent, scary adventure I have ever endured," Ms. Kang said. "I have never felt so alone, but that quickly went away when I met new friends and received care packages from home often. I have so many people back at home in America that believe in me and that's what is pushing me to work harder in school."
Ms. Kang isn't blind to her surroundings and is more than willing to go exploring. "While schoolwork takes a lot of time from my life, there is always time for the last minute, random trips to Paris," she said. "It is only two hours away by train. Being able to travel to Europe in the spur of the moment is one of my favorite things about living in London. Not to mention how much inspiration is around each corner."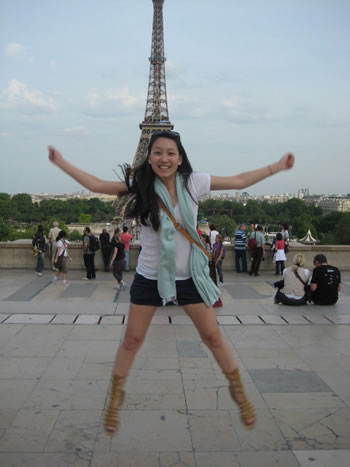 This year has been filled with hard work while she goes about developing a portfolio, Ms. Kang said. In March she will begin hunting for job placement or an internship with one of the companies associated with her school. 
The Huntington alum hopes to graduate in 2011 and then move on to a master's program at Central Saint Martins, also a part of the University of the Arts, or study French and earn a master's degree at a fashion school in Paris.
"After all my schooling, I plan to move back to New York and work full time in the city, hopefully starting on my own collection or working for an amazing designer," Ms. Kang said. 
All graphics, photographs, and text appearing on the Huntington Public Schools home page and subsequent official web pages are protected by copyright. Redistribution or commercial use is prohibited without express written permission. Comments or Questions? email the Public Information Office