Band Alumni King and Queen
Quite a Duo
There's no question that two of the most popular people at the Huntington High School marching band's 75th anniversary celebration were alumni king and queen, Frank Lizzo and Sue Verme Callahan.
Mrs/ Callahan, a member of the Class of 1943 and the Blue Devil band's first twirler, rode along the homecoming day parade route in a white convertible Eldorado and Mr. Lizzo, a 1947 Huntington grad, marched, expertly playing a large drum with his sons, band alums, too, on either side of their father also playing big drums.
Following the band reunion and anniversary events, Mrs. Callahan placed a call to Joan R. Fretz, Huntington's district director of fine and performing arts. Her cousin, Jerry Verme wrote the school's fight song in 1940.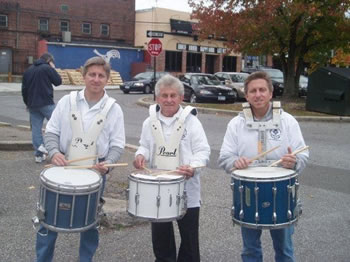 "She called me to say how much all of the alumni festivities meant to her," Mrs. Fretz said. "She explained that she was born in Huntington in her house and has lived here all her life.  She talked about so many interesting things about the town and she explained how she stays so young at heart. She tap dances every week at the senior citizens center and still plays musical instruments, too.  I just think she is amazing at 84."
Mr. Lizzo was pretty spectacular in his own right. The apparatus to carry and support the large drum he played in the parade looked heavy and uncomfortable to the average eye, but it didn't seem to bother him at all. The alum looked more than 30 years younger than his actual age and appeared more physically fit than some 18 year olds.
Susan Elizabeth Verme graduated from Huntington High School on Tuesday, June 22, 1943 during an 8:15 p.m. ceremony in the auditorium of the building on Main Street. Valedictorian Ruth Hofman and salutatorian Berwind Norman Kaufmann addressed the packed house.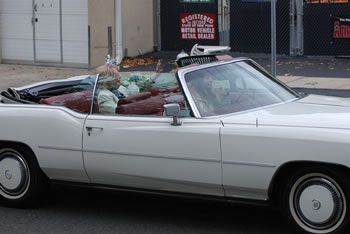 Frank Dominick Lizzo walked away with his Huntington diploma following an 8:15 p.m. commencement in the high school auditorium on Tuesday, June 24, 1947. That night he listened to speeches by valedictorian Vera Radaslava Demerec and salutatorian Joan Marilyn Johnson.
All these years later, the pair of music darlings returned to their alma mater, albeit at a different location than the old high school that is now used at Town Hall.
All graphics, photographs, and text appearing on the Huntington Public Schools home page and subsequent official web pages are protected by copyright. Redistribution or commercial use is prohibited without express written permission. Comments or Questions? email the Public Information Office