Catching up with Lee Verdecchia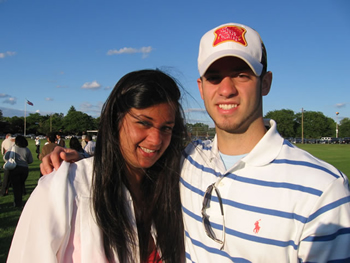 Lee Verdecchia was one of the more colorful Huntington High School students in the Class of 2006 and he remains so today as a junior at Boston University where he's studying advertising, mass communication and public relations.
"I chose advertising because I think I'm a creative person, but at the same time I'm a problem solver," said Mr. Verdecchia, who captained the Blue Devils' county championship football team in 2005. "I figured at the time that advertising would be a perfect way to combine writing, analytics and creativity all in one, while being able to learn about some pretty cool advertising strategies in my courses. While I see myself as good at many things, I don't see myself as an expert in one thing. So, I thought advertising would allow me to pool my skills and it's a really fun, interesting and ever-changing field."
Although he's a couple of hundred miles away, Mr. Verdecchia has remained connected to his hometown. "I keep in touch with all of my friends from high school," he said. "I've learned that Huntington is an amazing place, filled with amazing people and an amazing sense of community. Though I haven't been to too many places, I know that nowhere I go could ever compare to Huntington. This is where I grew up, where my friends grew up and where everyone knows each other. I know that it is still the same."
Boston University's College of Communication is widely regarded as one of the nation's best, in a circle that includes elite programs at Syracuse and Northwestern. "I wanted to study journalism at first because I love writing, but found out after my
first semester that perhaps I wasn't curious enough to do the sort of investigative journalism that I believe makes for great stories."  So he switched to his current program of study and has done quite well, compiling a 3.5 grade point average last year in both the spring and fall semesters and earning a spot on the school's Dean's List.
Mr. Verdecchia, who at various points also ran track and played lacrosse and basketball for the Blue Devils, added a college minor in psychology, "because I have an interest in this field in general, and it goes well with several aspects of the marketing field," he said. "I like learning about people and how people think."
As far as the BU club program goes, Mr. Verdecchia hasn't particularly embraced it. "I haven't done much other than play intramural flag football, but found it boring because there were too many penalties," he said. There was also a stint with the advertising club during his freshman year.
Today, Mr. Verdecchia is living in an off-campus apartment between BU and Boston College in Allston.  He shares the space with four friends.  He hopes to get an internship this summer with a New York City advertising agency.
"Next fall, I plan on studying abroad in London through BU's advertising and marketing internship program," he said. "I think this will be a great experience for me. Though I don't know yet if I'd like to be on the managerial side or the creative side of the advertising world once I leave college, I do know that at this point I've developed a passionate interest for the field. I do not plan on going to grad school because, really, the best experience in advertising comes from doing it and being involved in the process day-to-day."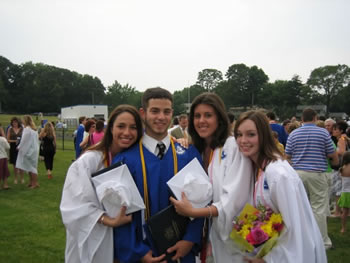 Mr. Verdecchia, who was a member of the National Honor Society and Natural Helpers club in high school, knows advertising is the field for him "because when I read my textbooks they don't bore me to death," he said. "We learn about things such as the historical Volkswagen campaigns, Facebook, Google, Corona and all things that we come into contact with through our daily lives."
Mr. Verdecchia said stays in contact with Huntington teachers Stacy Byrnes and Pam Piffard, who he interned with as a junior. "She was my favorite teacher and a very important person in my life in general," he said about Ms. Piffard. "I've contacted her about several internship possibilities and she has always been willing to help me in any way she can. I've visited her at Huntington High School a bunch of times over school breaks and it's always nice to catch up, though it's almost impossible to get into Huntington High School a/k/a Fort Knox these days, it seems."  Other alumni would tend to agree.
"Though these two teachers may be the only one's that I've kept in touch
with over the past three years, every teacher and coach I had in my Huntington career--from coach [Jamie] Fishlow and [Steve] Henry to Mr. [Jarrett] Stein - along
with all of the security guards and other administrators, as well as the Finley coaches and teachers, hold a special place in my life," Mr. Verdecchia said.
The Huntington grad visited Blue Devil football coaches Ron Wilson and Joe Poller last year and said "it's always nice to see them working hard, running two-a-days outside on the field during the summer. They're great people. I haven't seen coach [Steve] Muller or [Joe] Crocco in a long time, but they're great people, too. I'm very proud to be a member and captain of our 2005 Suffolk County championship team and have our Sports Illustrated spread as well as my varsity 'H's' hung on my walls in my apartment. Being a part of that team, I think, built my character very much so and I'll never forget being a part of it."
Mr. Verdecchia has already gained some valuable work experience.  "I've worked for ESPN/ABC as a production assistant for the Belmont Stakes the past two summers," he said. "It was cool being there last year for the possibility of a triple crown. I rode in a van with Kenny Mayne, actually."  He's also had the typical work experiences of a college student, including stretches at the Bay Deli and at Jack Berleth & Sons Plumbing and Heating, which gave him "a true appreciation for blue collar work and helped me realize
I'd better stay in school."
All graphics, photographs, and text appearing on the Huntington Public Schools home page and subsequent official web pages are protected by copyright. Redistribution or commercial use is prohibited without express written permission. Comments or Questions? email the Public Information Office