Remembering Robert L. Simpson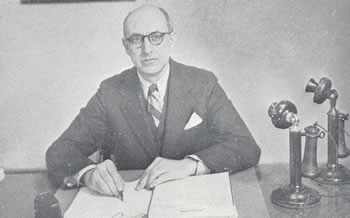 As one of the oldest school districts in the state, it comes as no surprise that Huntington has had many legendary figures pass through its ranks. Robert L. Simpson is one of them. He came here in 1909 and stayed for 41 years, retiring in June 1950. School Board members voted unanimously to rename the high school in his honor even before his final day on the job.

Mr. Simpson, who earned a bachelor's degree in philosophy at Wesleyan College, cut a stern looking figure for good reason: He served as an assistant professor of Latin at Pennsylvania Military College for two years. His original assignment at Huntington High School was as a teacher of "higher math" classes before he became vice-principal under Robert K. Toaz, who served as both superintendent of the district and high school principal.

Born in Northport, Mr. Simpson became the high school principal in 1930 and stayed in the post for two decades, retiring at age 65. His decision to call it quits came as a shock to many in the community. One local paper wrote that it "will bring sadness to the hearts of many thousand people in all parts of the world, for those who were educated under the inspired leadership of Mr. Simpson can be found in all walks of life and in far flung places."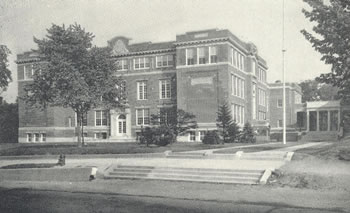 By all accounts, Mr. Simpson, who believed character building was a "chief objective" of an education, was quite a guy. When the YMCA was first organized in July 1913, Mr. Simpson became one of its most energetic volunteers. He later led conferences and served as a speaker and song leader at meetings.

When the Boy Scouts came to Huntington in 1915, Mr. Simpson dived into the enterprise, serving as scoutmaster of Troop 3 for many years, going on hikes, drilling scouts in military formations, creating a scout band and leading a group of scouts in a march up Sagamore Hill in May 1917 when former President Theodore Roosevelt hosted a large group of scouts at his home, showing them his trophy collection from around the world.

Mr. Simpson served as a YMCA camp director in the 1920's. Known as Camp Triangle, it was located on the Lloyd Neck shore across from Marshall Field's estate, which today is Caumsett State Park. The Suffolk Boy Scouts Council awarded him the Silver Beaver in November 1931. It "is the highest honor that can be given to an adult scout leader." He was one of the first three recipients in Suffolk.

Highly regarded for his eloquence and humor, Mr. Simpson was in constant demand as a speaker. His interest in athletes and Huntington's sports program was described as "intense" and he always attended team banquets.

On Monday, June 19, 1950 a banquet was held in the school cafeteria in honor of Mr. Simpson looming retirement, followed by a testimonial program in the auditorium at 8:30 p.m. This was during a time when the high school was located on Main Street in the building now utilized as Town Hall, across the street from the Old First Church and Heckscher Park.

Dr. Russell W. Sammis, a member of Huntington's Class of 1917, was the master of ceremonies for the event. The speakers included Bay Shore High School Principal Warde G. McLaughlin spoke on behalf of Suffolk County administrators. Bruce Hackstaff, Class of 1927, who was a star football player in his day, represented the sports program. Gordon Dilworth, Class of 1931, performed a musical selection.

Julia E. Reeder, the longtime high school dean, represented faculty members. Charles H. Sullivan, Class of 1923, spoke on behalf of alumni. An alumni quartet sang three songs during the second half of the program. Jerry Verme composed "Song on my Heart" just for the occasion. Huntington senior Herbert Madigson, president of Class of 1950, also addressed Mr. Simpson and the crowd on behalf of his fellow students. Board of Education "Chairman" Howard H. Olsen was the final speaker. He announced that fellow trustees voted in unison to rename the building Robert L. Simpson High School. Thunderous applause followed.

Mr. Olsen presented the retiring principal with a check for $1,300, which was referred to as a "remembrance fund" collected from friends as a token of the esteem they felt for Mr. Simpson.

When it was finally Mr. Simpson's turn to speak, he outlined his remembrances, told several anecdotes and recalled several students he first met as freshmen who went on to impact society, including current Town Supervisor Walter Fasbender, Chamber of Commerce leader Henry Duvernoy, Justice of the Peace William Titus and many other civic and government leaders. The community band then played as the crowd sang three songs: "Fight, Fight for Huntington," "Honor to Huntington" and "Amici."
A week later, on Tuesday, June 27, Mr. Simpson presided over the 89th Huntington commencement at 8:15 p.m. on the athletic field at Heckscher Park. A few days later, the school giant retired.

In addition to holding down the high school principal's position for two decades, Mr. Simpson served as superintendent of schools during the 1933/34 school year, between the administrations of Robert K. Toaz and Raymond C. Burdick. He was considered for the superintendent's position on a permanent basis but he wanted to stay as the high school principal so he could have more contact with students.

"Robert L. Simpson has woven himself inextricably into the memories of countless Huntington High School alumni and has helped to make the character and personality of those alumni, too," The Long-Islander stated in an editorial.

The legendary Huntington figure reveled in building self-respect in students. Known for his light, dry wit, a few words from him was said to be capable of lifting the moods of faculty and students. His deadly serious features made his smile even more effective. He commanded tremendous respect, yet students still tended to look upon him as their friend. It was said that Mr. Simpson could gaze upon a teenager and "see through them and into their adult lives." He saw their potential.

"A high school principal must be a man who has imagination and vision and who has the courage to be an educational leader in the community," The Long-Islander wrote. "He possesses these desirable qualities in a high degree."

Mr. Simpson was succeeded by Robert Cushman, who emerged from a field of seven candidates. Mr. Cushman enjoyed an 18-year run in the principal's office. R.L. Simpson High School disappeared when the new high school building opened in November 1958. However, when the Main Street building reopened in 1961 following a nearly three year renovation, that structure was named R.L. Simpson Junior High School until it closed for good in June 1976. It was later sold to the town for $1.
Fight, Fight for Huntington
Words and Music by R.L. Simpson

Huntington, dear Huntington!
Our Alma Mater dear.
You're the one that we adore,
The one that we revere.
While the Blue and White floats high
Hearts are light and vict'rys nigh.
Let the cheers go rolling by for Huntington.

Do and dare for Huntington lets
End what we've begun;
Forward now let every loyal son of Huntington
Rally round the colors bright
Raise the banner, blue and white
Fight, fight for dear old Huntington.


Honor to Huntington
Verme

Honor to Huntington
Now that our tasks are done
We will remember
The days we've passed within thy halls
And e'en 'tho we now must part
Loyal in ev'ry heart
Oh men of Huntington.
We will be true.

Amici

Our strong band shall na'er be broken
Formed in Huntington High
Far surpassing wealth unspoken
Sealed by friendship's tie.

Huntington High School now and ever
Deep graven on each heart
Shall be found unwavering true
When we from life shall part.

High school life at best is passing
Gliding swiftly by;
Then let us pledge in word and deed
Our love for Huntington High. Huntington High School now and ever
Deep graven on each heart
Shall be found unwavering true
When we from life shall part.
All graphics, photographs, and text appearing on the Huntington Public Schools home page and subsequent official web pages are protected by copyright. Redistribution or commercial use is prohibited without express written permission. Comments or Questions? email the Public Information Office