Catching up with Venice Lagone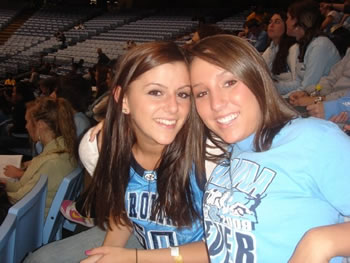 When Venice Lagone looks back on her four years at Huntington High School there's so much to be proud about.  She might not have a full appreciation for that yet, since she's still engrossed in a variety of academic pursuits, currently at the Univ. of North Carolina at Chapel Hill, but the Class of 2008 member is certainly one of the most distinguished graduates of the past decade.

Ms. Lagone chose UNC from a list of top-tier colleges and universities after being accepted into the school's honors program.  This past fall, the college freshman completed three honors program courses, including Combinatorics (a math class), Economics and East European Literature.  She also earned credits in Art History and Polish.

"I have found that college classes tend to be a lot more independent learning/studying, with class time dedicated to discussion," the Huntington grad said. "I happen to like this method because being forced to learn from the textbooks myself helps me absorb the material better and then discussions make class time more interesting."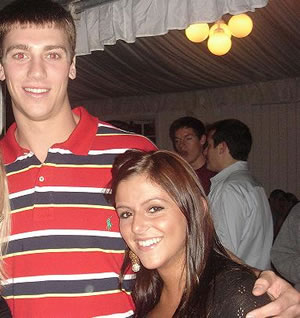 The coming spring semester will see Ms. Lagone take courses in statistics, financial management and macroeconomics (to fulfill the prerequisites of the Kenan-Flagler Business School that she will apply for at the end of her sophomore year), Polish and psychology.  It's a full load of credits and a challenging slate of academic work.

"So far, I love Chapel Hill," she said. "The town is really fun for college students. For a big school of 25,000 students, the campus actually has a small feel and I have found that help and advising is readily available, if needed."

At Huntington, Ms. Lagone was involved in many different extracurricular activities, including a long association with the Highsteppers, the high school's competitive dance team.  She was an Advanced Placement Scholar and member of the National Honor Society, Math Honor Society and Foreign Language Honor Society.  She was one of a handful of seniors to earn the New York State Scholarship of Excellence.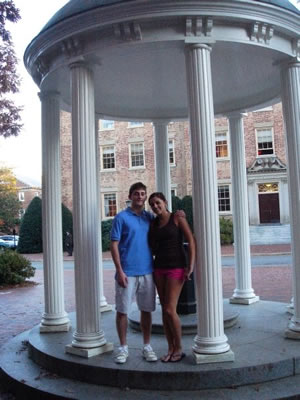 At North Carolina, Ms. Lagone is taking advantage of all the school offers outside of the classroom.  "There are so many different clubs to join," she said.  "I am a member of the UNC College Republicans, Out of State Student Association, the Honors Program and I am applying to be on the Honors Student Board. I am also in the sorority Alpha Delta Pi and take dance classes on campus. I also noticed that there is such an amazing amount of school spirit because most people are 'Tar Heel born, Tar Heel bred,' and we have great sports teams to cheer on."

The UNC men's basketball team has been ranked No. 1 in NCAA Division I, so excitement has been running high on the sprawling campus.  It's a place of constant activity filled with young people pushing themselves intellectually in every possible academic discipline.

"I feel I could not have picked a better school to get a good education with school spirit, a pretty campus, and a great town and social scene all in one," Ms. Lagone said.
All graphics, photographs, and text appearing on the Huntington Public Schools home page and subsequent official web pages are protected by copyright. Redistribution or commercial use is prohibited without express written permission. Comments or Questions? email the Public Information Office