Catching up with Morgan Hughes
It's hard to imagine Morgan Hughes ever having a bad day. In four years at Huntington High School she was known to teachers, coaches and teammates as perpetually positive and upbeat, if not downright cheery. She's one of those unique people who never fail to see a silver lining in every one of life's twists and turns.

At Huntington, Ms. Hughes was a member of the varsity basketball, soccer and crew teams. She earned fine grades in many of the school's most difficult courses. After graduating from high school in June 2007, she headed off to the University of New Hampshire. Now a sophomore on the Durham campus, she is immersed in college life.

"UNH is a great school and has a lot of different activities to offer and I am still very happy with my decision to come here," Ms. Hughes said. She is majoring in political science and carries a minor in international affairs. In the spring of her junior year, she plans to study abroad in either Great Britain or Spain.

"With my political science degree, I'm looking to possibly work in the government and become a diplomat or possibly further my career and go to law school and become an international lawyer," Ms. Hughes said. "I'm not sure yet. But I want to work overseas and foreign relationships would be ideal."

Huntington High School prepared Ms. Hughes quite well for the rigors of college study. "One teacher that really stood out was Mrs. Lynda Weinstein," she said. "She really got me interested in history, which influenced my decision in choosing my major. Another [standout] teacher was Mr. [Michael] Schwendemann. He really made learning fun and was supportive of me in and out of the classroom. One of my favorite courses was AP government. It also influenced my major."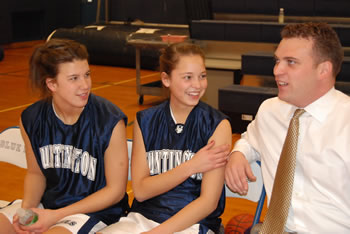 Last summer Ms. Hughes earned money as a waitress at Umbertos and by working in the L.I. Lutheran High School summer camp program with Brad Reminick, her Huntington High School basketball coach. She was a starter on the first Blue Devil girls' basketball team to ever advance to the Suffolk finals.

"I am still playing basketball and soccer and I've joined the rugby intramural team," Ms. Hughes said. "It's a lot of fun and you meet a lot of new people. Although for basketball and soccer there aren't practices, just two games a night, which is a little less than what I'm used to." The soccer and basketball intramural teams compete in formal leagues on campus, which feature regular season games and respective post-season tournaments.

"I am really enjoying my classes this semester and I'm happy with all of my professors," Ms. Hughes said. "My school is great. There are tons of outdoor activities that my campus has to offer."

Even far from home, Ms. Hughes remains just as upbeat as always.
All graphics, photographs, and text appearing on the Huntington Public Schools home page and subsequent official web pages are protected by copyright. Redistribution or commercial use is prohibited without express written permission. Comments or Questions? email the Public Information Office