Stars Glitter for Huntington Foundation at Annual Gala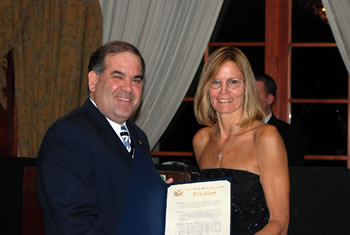 Frigid temperatures didn't prevent the Huntington school community from turning out to honor longtime teacher and administrator Dr. Vicki Mingin at the Huntington Foundation for Excellence in Education's annual gala last Friday night at The Woodlands estate in Woodbury.  A throng of nearly 300 public education supporters danced, dined and participated in live and silent auctions.

School officials past and present, faculty members, friends and parents of current students helped pay tribute to Dr. Mingin, who was recognized with the Foundation's highest honor – the Spirit Award.  The event raised tens of thousands of dollars, which will be used to fund grants encouraging innovative classroom practices and creative school programs.

Dr. Mingin, who has enjoyed a half-century long association with the district, first as a student and later as a special education teacher and department director, thanked those in the crowd for "all the strength, all the hope" that has sustained her through the years.  Hope was a theme she returned to again and again throughout her heartfelt remarks, telling an emotional story about a recent conversation she had with the parent of a Huntington student.  "We all do what we can," she said.  "No single person can do it.  We have to do it as a team," adding how proud she is to work in Huntington and serve with so many dedicated professionals who care so deeply about young people.

A consummate professional, Dr. Mingin told many poignant anecdotes about her experiences as a young girl and teenager making her way through the Huntington School District as a student.  She recalled the terror filled days of the Cuban Missile Crisis and said she "can still remember where I sat in the Flower Hill hallway with my hands over my head.  It was a scary feeling."  She reminisced about the day President John F. Kennedy was assassinated, the day she learned one of her brothers was being sent to Vietnam and other tragedies and triumphs.  But, she never lost hope, she said.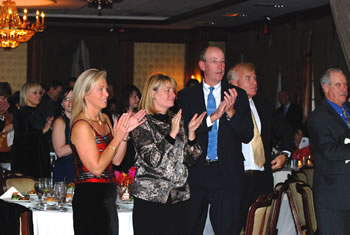 "Having hope and giving hope" is important, said Dr. Mingin, who added that "without it, we can't run the race of life."  She also lauded the Huntington Foundation for its efforts over the years to improve the district.

Huntington Foundation President Mark Doyle said the organization is just as vital today as it was when it was founded 15 years ago.  He thanked those who have worked so hard on its behalf and spoke glowingly of the Foundation's accomplishments.

Tables were packed with public education supporters and community minded individuals.  "It's so important we support the Foundation, which has become an irreplaceable organization in the district," said Georganne White, who serves as a vice-president of the Associated Teachers of Huntington.

Since it was established, the Foundation has donated about three-quarters of a million dollars to the school district, making an impact in every school and touching nearly every program by providing enhancements that couldn't be funded through the regular budget.

Array of Items Auctioned

More than a hundred area businesses and individuals contributed thousands of dollars worth of prizes that were either raffled off or put up for auction.  Professional auctioneer Jeff Klaverweiden, the husband of Foundation Vice President Diane Klaverweiden, delighted in coaxing money from attendees for items ranging from vacation packages, jewelry, professional sporting events tickets and a private wine tasting to horseback riding lessons at Sagamore Hill Stables, a private gourmet dinner party, free home heating oil, Broadway show packages complete with dinner and charter fishing trips.

Dr. Mingin basked in accolades sent her way all night long, and so did her family.  One of nine children, she told the crowd that her mother passed away at 39 years of age, while the future faculty member was a young girl attending J. Taylor Finley Junior High School.  Her father Herbert, a captain in Pan American World Airways who was in Friday night's crowd, held the family together and gave each child what was needed for a lifetime of success.

Huntington School Board President Richard McGrath said Dr. Mingin is "a person who has gone above and beyond in her commitment to our district.  Day or night, Vicki is there on the front lines helping our students meet their educational, emotional and social challenges to achieve at the highest level possible."

State Assemblyman Participates in Tribute

New York State Assemblyman James D. Conte, a 1977 Huntington graduate, was on hand and presented Dr. Mingin with separate proclamations on behalf of himself and Senator Carl Marcellino, extolling her service and praising her efforts.  "I came here to thank her for all the work she does each day," said Mr. Conte, whose wife Debbie accompanied him to the dinner.

This was the Huntington Foundation's night to shine, and it did.  The elegant Gold Coast era surroundings lent dignity and grace to an evening that saw the district's administrative ranks turn out en masse, along with dozens of faculty members and hundreds of parents. 

The more money the Foundation raises, the more money it can contribute for programs and equipment and even support for students who cannot afford to pay for field trips or for the sixth grade Greenkill outdoor environmental education trip.

Once the auctions and tributes were finished, the crowd spilled out of its seats and onto the dance floor, enjoying twirls and whirls while nearby fireplaces roared, although the energy and excitement generated from the night's events was more than enough to heat the large banquet room by itself.
All graphics, photographs, and text appearing on the Huntington Public Schools home page and subsequent official web pages are protected by copyright. Redistribution or commercial use is prohibited without express written permission. Comments or Questions? email the Public Information Office