December 4, 2020
Max Rentsch can keep people guessing. The Huntington High School junior has a look that doesn't give away his thoughts, but he finds it hard to contain his smile and laugh. He rolls with the ups and downs of teenage life and always manages to find a way to emerge with his good humor intact.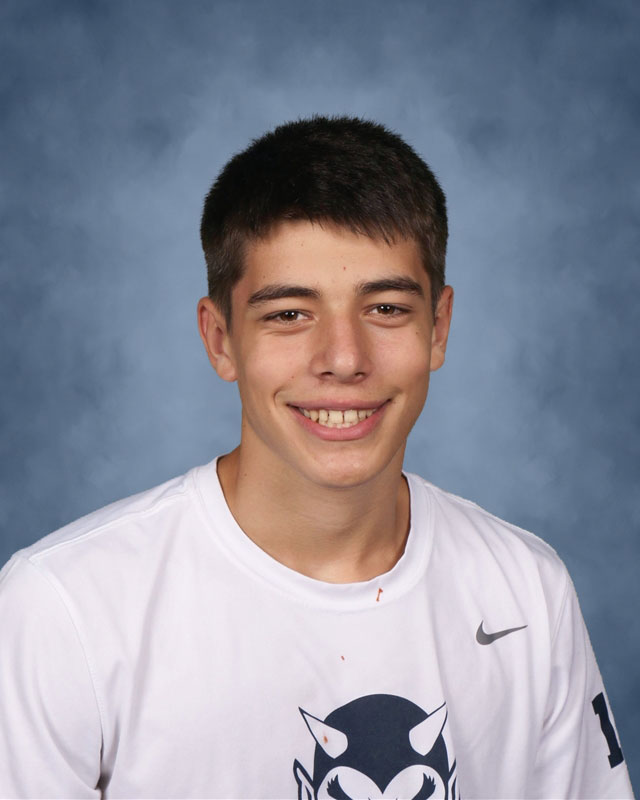 Huntington High School junior Max Rentsch.
The junior gives his classes the attention they require, but his thoughts are never that far from the basketball court. Mr. Rentsch is a great player with an awesome outside shot. He was expected to star on last year's Blue Devil varsity team, but a freak injury in the opening game of the season forced him to the sidelines for many weeks and prevented him from having what everyone believed would be a big year.
But Mr. Rentsch has worked his way back from the injury and he's bigger, stronger and better than ever. Only now it's not an injury, but the COVID-19 pandemic that is interrupting what should be a fantastic season for the junior. The public health crisis has already led to the cancellation of spring, summer and fall leagues and pushed back the start of the season from mid-November to January 4.
Despite it all, Mr. Rentsch just keeps on rolling with the punches. He's been training with the Blue Devil basketball team on the outdoor courts at Jack Abrams STEM Magnet School and he looks impressive, to say the least.
Mr. Rentsch's parents instilled in him the value of a good education. His father is a college professor and his brother is a freshman at Northwestern University in Illinois. He works hard to earn good grades.
"The courses that most interest me this year are the Virtual Enterprise business class and my social studies class," Mr. Rentsch said. "I am looking forward to keep working with Mrs. [Suzi] Biagi, my Virtual Enterprise teacher."
A member of the National Honor Society and the English Honor Society, Mr. Rentsch volunteers with the high school's Habitat for Humanity and Key Club chapters.
Most closely identified as a basketball player, Mr. Rentsch plans on playing soccer this year and Huntington High School track and field coach Ronald Wilson would love to see him high jump for the Blue Devils, but that remains to be seen.
"My closest friends are Dylan Coleman, Joe Sclafani, Matt Lange, John Marziliano, Dylan Schnitzer, Henry Vohs and Kevin Drake," Mr. Rentsch said.
The junior said there have been many teachers over the years "who have stood out to me and made my high school experience a lot better. One of them is Mr. [Fred] Bisogno, who I have already had twice as a teacher. I really enjoy his class."
Mr. Rentsch's advice to incoming freshmen? "Play sports or join clubs to make high school more fun and a better experience," he said.
The teenager hasn't developed a list of college possibilities just yet, but it will most likely be based around their business and marketing programs.
"My experience at Huntington High School has been great and fun and I look forward to another year here," Mr. Rentsch said.