December 3, 2020
Maddy Bavaro has a great sense of humor, especially when it comes to ghosts. The Huntington High School junior took a beautiful photo for a "ghostly" assignment and injected some lighthearted aspects into it.
"I took this photo with a couple of my friends during late October," Ms. Bavaro said. "I saw an aluminum container in a closet and thought back to how on Thanksgiving, there is always that little moment when the whole family is waiting to be invited into the house. Each member is always carrying something, so I thought it would be interesting if one of the ghosts was holding a ghost baby. To me, the image of waiting outside a family member's house, with food to share, shows the excitement of the holidays."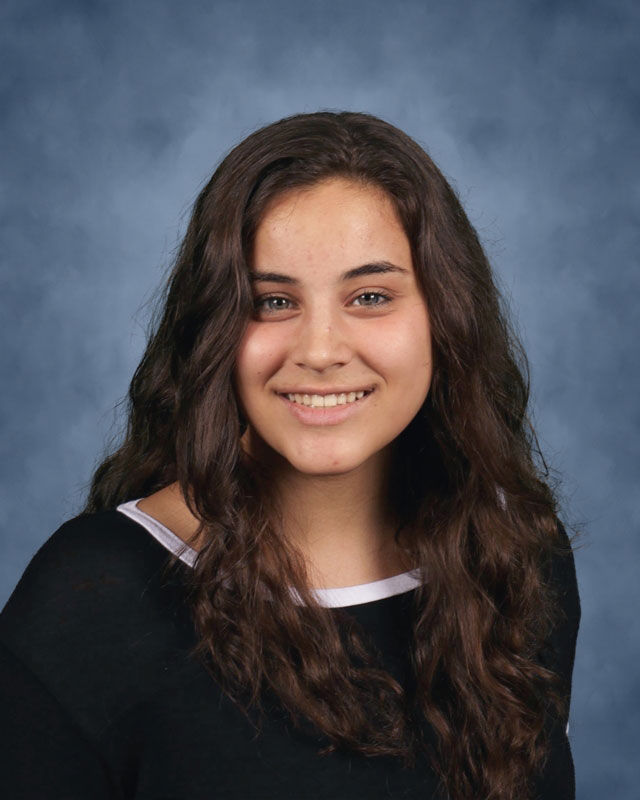 Huntington High School junior Maddy Bavaro.
The ghosts in the photo, including the baby are all wearing sunglasses. Yes, Ms. Bavaro is a funny teenager. But she's a serious student, athlete, musician and award winning history student.
Ms. Bavaro is already thinking about college. "As of right now, I'm looking at small liberal art schools in the northeast," she said. "More specifically, I am looking at schools like Lehigh, Lafayette and Vassar. I'm considering studying pre-law in college."
Playing the part of the ghosts were Huntington juniors Teddi Carnesi and Ally Kustera, two of Ms. Bavaro's closest friends. The three teenagers worked well together. The photo speaks for itself.
"I've been into photography since I was little," Ms. Bavaro said. "During elementary school, I even said I wanted to be a National Geographic photographer and my parents would laugh. Taking photos has always been a stress reliever for me, especially now during COVID. Intro to Photography and Advanced Photography are two great classes Huntington High School offers. They have really helped me improve my skills."