December 1, 2020
The Huntington High School girls' softball program saw a burst of enthusiasm last spring, with dozens of players trying out for the varsity and junior varsity teams.
The JV team has struggled to fill its roster with enough players to field a team in recent years, but last spring more players turned out than at any other time in recent memory. The huge amount of interest was due in no small part to the efforts of Todd Jamison, who returned to the program as its JV coach after two decades away from the field.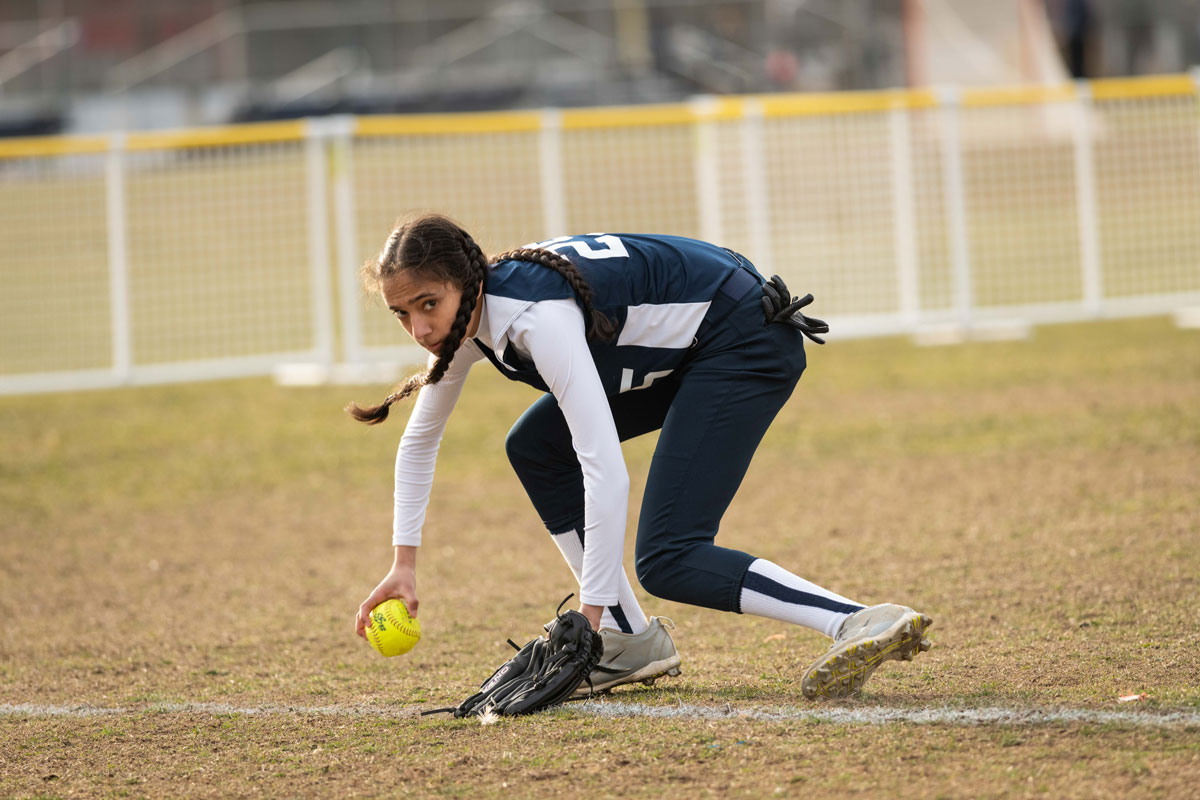 Junior Jasjeet Kaur is one of the Huntington softball team's stars. (Darin Reed photo.)
Coach Jamison talked up the program throughout the building and asked underclassmen to give the sport a try and they responded positively
Unfortunately, the COVID-19 pandemic ended the season after just one week of practices. The Blue Devils hope to recreate the same interest next spring when play is scheduled to resume.
Boys Track Seniors Wait
The Huntington boys' track team's seniors have not finalized their college plans just yet. The COVID-19 pandemic is a major reason why. While several of the seniors are reigning county and state champions and All-Americans, the lack of a spring season prevented them from posting times in their respective events. Those times are often the determining factor for college coaches awarding scholarship packages.
Coach Ron Wilson has been speaking with college coaches and sifting through possible landing spots for the Blue Devil seniors who plan to participate in college track and field. It will take more time to the situation to clear-up. In the meantime, the teenagers are considering their options and prioritizing the schools they are interested in attending.
Young Athletes in Pipeline
Huntington UFSD elementary grade level physical education teachers report they have dozens of possible future Blue Devil stars in their ranks spread across just about every sport.
Many of the boys and girls are participating in community based sports programs, with large numbers giving multiple sports a try. Teachers are encouraging them to explore their interests to determine their likes and dislikes
Discussions have been held concerning initiatives to get the youngsters interested in the Blue Devil varsity and JV programs, as well as those at J. Taylor Finley Middle School. For example, the wrestling program offered free intramurals late last winter to give elementary school kids a taste of the sport. The boys' basketball program held a special night for district sixth graders, with the youngsters playing half-court games at halftime of a varsity game. The kids were given t-shirts provided by the Booster Club and enjoyed a post-game pizza party.
The boys' track program has held similar events where the top sixth graders are invited to race against each other in a pair of events during an actual varsity track meet.
More such initiatives are planned once the COVID-19 pandemic relents.
Kathryn Montefuso Aims for Gold
Huntington sophomore Kathryn Montefusco already has several varsity seasons under her belt. She is a returning All-County and All-State swimmer in the 100 freestyle and 100 breaststroke. Coach Christopher Helmke believes she can climb even higher on the victory platform; much higher.
Ms. Montefusco trains year-round and she has enough potential to compete with the state's best. Of course, nothing is guaranteed and everyone is training hard all over the state, but the Blue Devil star can't be counted out in either of her events. As she gains in strength and experience and as seniors in front of her graduate, the teenager inches closer to goal of winning a goal medal at the state championships.
New Blue Devil Coach Appointed
Onix Salva has been appointed to serve at the Huntington High School varsity boys' cross country team's coach. He volunteered last winter and spring with the Blue Devil indoor and outdoor track and field teams. He has also been appointed as a high school teaching assistant.
Mr. Salva recently completed his state certification student teaching requirements with Huntington physical education teachers John Walsh and Michael Marinello.
Mr. Salva obtained a Bachelor of Arts degree in education and exercise science at Florida International University and has been studying for his Master of Science degree in teaching physical education at Hofstra University.
Mr. Salva coached varsity boys' and girls' track and field at Malverne High School for five years, developing many champions along the way.
District officials reviewed 20 applications and interviewed 14 candidates for the teaching assistant position prior to recommending Mr. Salva for appointment.
Blue Devil Boys' Basketball Trains Outdoors
The Huntington boys' basketball team has been engaged in pre-season training and conditioning outdoors on the resurfaced court complex at Jack Abrams STEM Magnet School.
The team is looking to establish itself this season with second year coach Jordan Ioviero at the helm. Seven players are back from last winter's varsity squad.
"The goal for this year's basketball season is to come together as a family and develop a winning attitude," junior Charlie Girimonti said.
Besides Girimonti, the varsity will return juniors Dylan Coleman, Kevin Drake, Max Rentsch and Henry Vohs and seniors Adrian Brooks and Zachary Gordon.
H-ton Girls' Fencing is Hopeful
The Blue Devil girls' fencing team will enter the season in January 2021 with high hopes. The team is in the early stages of pre-season training and has many fencers from last winter returning.
The teenagers are realistic about what the season might entail with the COVID-19 pandemic still raging. Everyone associated with the squad is hoping practice will be allowed to officially begin on January 4, 2021.
"I think this year the goal is just to have a season and to perform the best we can in what few meets we have," sophomore Haileigh Smith said. "Of course all sports teams are trying to work within the guidelines long enough to have a full season and with tournaments being cancelled the main focus will probably be on individual meets and improving our skill set for next year."
Besides Ms. Smith, the Blue Devils will return freshman Uma Shtrom; sophomores Mackenzie Ahern, Fiona Brosnan, Emely Cruz, Aislyn Franciscovich, Lilianna LaVertu and Allison Malone; juniors Madelyn Bavaro, Alexandra Kustera, Michelle Lopez and Emily Roberts; and seniors Adora Colay, Emma Guba, Sasha Koulakova, Vivienne LaVertu and Aileen Lopez.
"The goal this year would be to get the word out about the fencing team and recruit as many people as possible," Ms. Colay said. "After that goal, we're hoping to win more matches than last year and continue to improve."
One Day at a Time for Girls' Basketball
The Huntington girls' basketball team has been holding pre-season training sessions outdoors on the courts located behind J. Taylor Finley Middle School.
"I definitely think our goal for basketball season is to take it one day at a time," senior Jordan Forte said. "All the girls are beyond excited to get back on the court and in the gym. Seeing everyone so happy every time we have a pre-season workout just shows the energy that will be brought into the season. I think the long-term goal is to obviously have a successful playoff run, hoping that there will be playoffs. Our goal right now is to get back on the court and start to get a ball in our hands just to get some of our shooting accuracy and ball handling skills back. I could not be more excited for basketball season to start up soon."
Besides Forte, returning from last winter's varsity squad are Alexa Amorison, Katie Browne, Gianna Forte, Jordan Forte, Makaylah Frazier, Charlotte Maggio, Lisa Martin, Junie Nosile and Emily Plachta.
Blue Devil Football Staff Set
The Blue Devil football program's staff is set for the coming season. The varsity coaching staff features Steven Muller, Kevin Graham and Eric Santos. The JV coaches will be James G. Byrnes, Jr. and James C. Byrnes. The staff at J. Taylor Finley Middle School includes Ronald Wilson, Jordan Ioviero and Patrick Reilly.
Soccer Coaches are Set
Huntington School Board members have appointed boys' and girls' soccer coaches for the coming season.
The district's boys' soccer staff includes varsity coaches John Pagano and Jason Suarez, JV coach Jose Alfaro and Finley coaches Travis Smith and Alex Nelson.
The Blue Devil girls' soccer staff features varsity coaches John Walsh and Vincent Tannazzo, JV coach Maria Canino and Finley coaches Linda Costello-Roth and Ysrael Gonzalez.
There will be one boys' team and one girls' team at Finley this year.