September 5, 2019
The opening day school bell rang out on Wednesday morning as thousands of Huntington School District students headed back for the start of classes. Classrooms buzzed with electricity all day as teachers reviewed their policies and procedures and taught their first lessons.
A district-wide convocation of faculty and support staff was held on Tuesday in the Huntington High School auditorium. Huntington School Board President Jennifer Hebert and Superintendent James W. Polansky spoke about their high hopes for the new school year.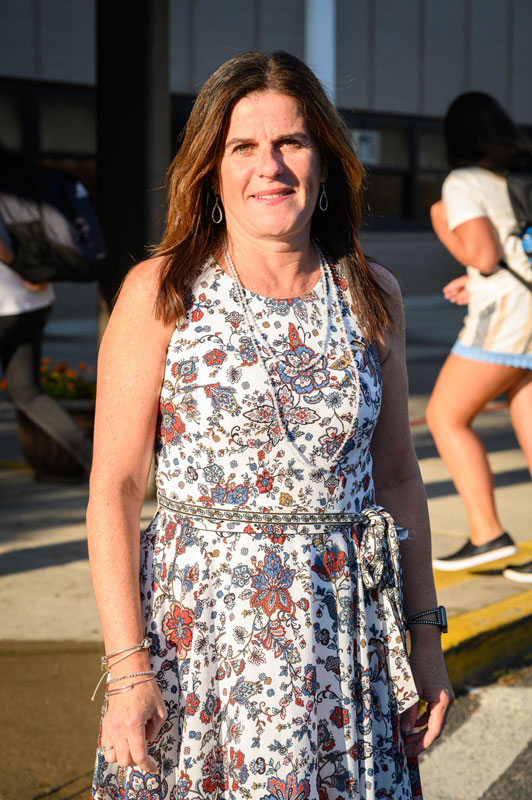 Traci Roethel is Finley Middle School's first year principal. (Darin Reed photo.)
"Enthusiasm and smiles were on the menu throughout the district on a terrific first day," Huntington Superintendent James W. Polansky said. "The Highsteppers made sure that our high schoolers were awake this morning with a year-opening and very well announced bake sale, setting the tone for an energetic beginning and a productive first day. Our new middle schoolers were thrilled to start at Finley; our eighth graders were quite pleased with building improvements made during the summer. Elementary students across the district were also happy to return, with many enjoying new schools as fourth graders and all eager to meet their new teachers and reconnect with friends. Our pre-K and kindergarten students transitioned particularly well into their new classrooms. In sum, it was a pleasure to share in the excitement and smiles throughout the day. All are looking forward to a great year."
Once the first bell sounded, students quickly fell into their normal school day routine. Everyone seemed to be in a good mood. There were few complaints heard as students of all ages were happy to see friends they said goodbye to last June.
"The first day of school was smooth sailing at Southdown Primary School," Principal Scott Oshrin said. "Only a few tears were shed; mostly by kindergarten parents! It feels great to have our school filled with happy boys and girls. I'm excited for a wonderful 2019/20 school year."
During the summer months, new textbooks, workbooks, library books, computers, SMART Boards and computer software were delivered to district buildings and readied for use. Numerous renovation and repair projects were also completed. New teachers have been hired to replace those who retired or left to pursue other ventures.
Many parents turned out at the four primary school buildings to snap photos and welcome their children off buses as they pulled up for the first day. Surprisingly few tears were shed by the youngsters, although some parents could be seen wiping their own eyes dry.
J. Taylor Finley Middle School welcomed more than 700 seventh and eighth graders on Wednesday. "It was a great start to the school year," Principal Traci Roethel said. "It was wonderful seeing so many familiar faces and all with smiles. Students were excited when entering the building. Teachers and staff have been a great support system of the students in the building, helping with lockers, finding classes and reading schedules."
Considering the enormous number of students being transported to and from their homes, it is not surprising there were some scattered morning and afternoon bus issues. District officials sought to quickly address problems as they became aware of them, working with Huntington Coach Corp. to find immediate solutions.
"Today was a great first day at Huntington High School," Principal Brenden Cusack said. "There was definitely excitement in the air and the building was buzzing with activity after a quiet summer. Students from our Natural Helpers club were out and about helping our incoming freshmen to find their way around and everyone was happy to see each other again. Things went smoothly throughout the day and we are off and running."
The district's new faculty members participated in orientation activities during August that were designed to help the teachers get off to a fast start. All teachers were required to report to their buildings this past Tuesday for a series of meetings, but most started arriving days in advance to review class lists, arrange classrooms, organize books and lesson plans and meet informally with colleagues.
"We had the best opening day ever," Flower Hill Principal Lucia Laguarda said. "My Flower Hill seniors (our third graders) came back to school with knowledge and wisdom. They are ready to share the Flower Hill Four; responsibility, safety, respect and kindness to all. All of my Flower Hill Foxes came to school today with a pep in their step. They know that this year is going to be the best year ever."
Huntington High School athletic teams have been practicing for several weeks and have already played regular season games. Teams at J. Taylor Finley Middle School kick-off this week. Nurses spent this past Tuesday organizing their offices and immediately started fielding phone calls from parents. Principals have been keeping track of last minute changes to the list of students enrolled in their respective building.
The buildings and grounds department spent the final days of August in a frantic race to put the finishing touches on each building. Work included polishing hallway floors, delivering boxes of supplies to classrooms, prepping the grounds, painting and setting up cafeteria tables so they were ready to accommodate an influx of thousands of students.
Getting eight cafeterias up and running was no easy task, but every building served breakfast and lunch to students on Wednesday. Technology staff members were diligent in prepping rooms and equipment across the district for teacher and student use on the first day. Faculty members were pleased and made immediate use of the gear.
"Today was a wonderful first day of school at Washington Primary School," Principal Michelle Richards said. "All of the students, faculty and staff were excited to start the 2019/20 school year. As the buses arrived, you could feel the smiles radiating through the windows. We began the day with hugs and high-fives! This opening was smooth as we had all hands on deck to ensure our students transitioned to their new classrooms. It is going to be the best year yet."