October 30, 2019
In a senior class filled with vibrant personalities, Huntington High School's Jaylen Bush has a degree of magnetism that few can match. He draws people to him with his bright smile and laugh. His friends know he cares about them and always has their back.
Born in Huntington Hospital, Mr. Bush got his start in Huntington UFSD as a Flower Hill Primary School kindergartener. He's been attracting friends ever since.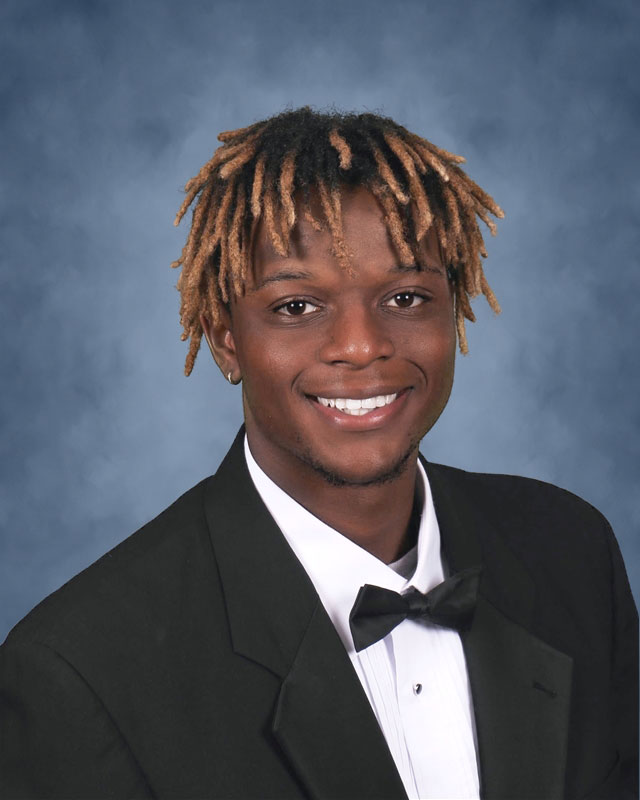 Huntington High School senior Jaylen Bush.
Ask anyone at Huntington High School and they will tell you that Mr. Bush is a great person to be around. "I love spending time with people who I care about," he said. "I just enjoy life and being able to have great people by my side."
The teenager's closest friends include Vinny Caravetto, RJ Moreno, Jack Jamison, Gary Barash, Nasir Youngblood and Rahliek Thomason.
"Jaylen is a guy who is always there for anyone who needs him," Mr. Moreno said. "He's also a top athlete in every sport he plays."
Mr. Bush is a two-way starter on the Blue Devil football team. His great play is one of the reasons Huntington is 5-2 over its first seven games of the season. He is also a hurdler on the winter and spring track teams and runs on the 4x200m relay.
"Jaylen Bush is really like a brother to me," Mr. Jamison said. "From growing up playing football with the Bulldogs and going all the way to play for the Blue Devils has been an amazing experience as has seeing him mature over time and take leadership of the football team."
Mr. Bush spent last summer training for football, relaxing with his friends and taking a trip to South Carolina. His current academic schedule includes classes in philosophy, criminal justice, economics, advanced algebra, multi-cultural literature and ceramics.
"Jaylen is a great person in my opinion," Mr. Youngblood said. "I feel that I can talk to him about anything. He is literally an older brother that I never had. I have a lot of love for him and just being on the same team as him and getting to play in football games and run track and go to away meets with him is just the most enjoyable times. I couldn't ask for a better brother. I promise you that I have a lot of love for that kid. I know for a fact that I'm going to miss him when he is off to college Jaylen is just an amazing person."
Mr. Bush's all-time favorite teacher is Jason Suarez. "I had him in sixth grade and he's taught me so much through the years," the senior said. "He's a great teacher and a great person to have a bond with and to look up to."
While many years have passed since Mr. Bush studied at Woodhull Intermediate School, he is still remembered fondly there. "Jaylen was always a very hard worker for me," Mr. Suarez said. "He never settled for being average in anything. He always wanted to work hard and put his mind into achieving higher goals. He is also an incredible athlete. I wish I had the opportunity to coach him as well."
Mr. Bush volunteers with the National Council of Negro Women. He also participates in the Young Leaders youth development organization.
"I'm interested in studying construction management," Mr. Bush said. "I am considering studying at either Utica College, LIU Post, American International College or Ithaca College."
Mr. Bush's friends are incredibly loyal to him. "Jaylen has been my best friend since we were four years old and playing for the Bulldogs together and now we are varsity football players," Mr. Caravetto said. "He's a very good teammate on and off the field. He takes football seriously and does his job well."
Mr. Bush's advice to incoming Huntington freshmen? "Take advantage of high school," he said. "Do all of your work. Remember, there's always someone available to help. High school is no joke. You have to take it seriously."
The teenager is a "take one day at a time" kind of guy. Mr. Bush is savoring every day that remains in his senior year and he's enjoying spending time with his friends, classmates and teammates.
"My experience in Huntington has been amazing," Mr. Bush said. "I'll never forget all the memories and the great atmosphere."