November 12, 2019
Erasing racism on Long Island was the focus of an all-day conference attended by a delegation of students in Huntington High School's A World of Difference club. The gathering at St. Joseph's College in Patchogue drew participants from 15 Suffolk high schools who all went home with plenty to think about.
ERASE Racism is a regional organization that leads public policy advocacy campaigns and related initiatives to promote racial equity in areas such as housing, public school education and community development.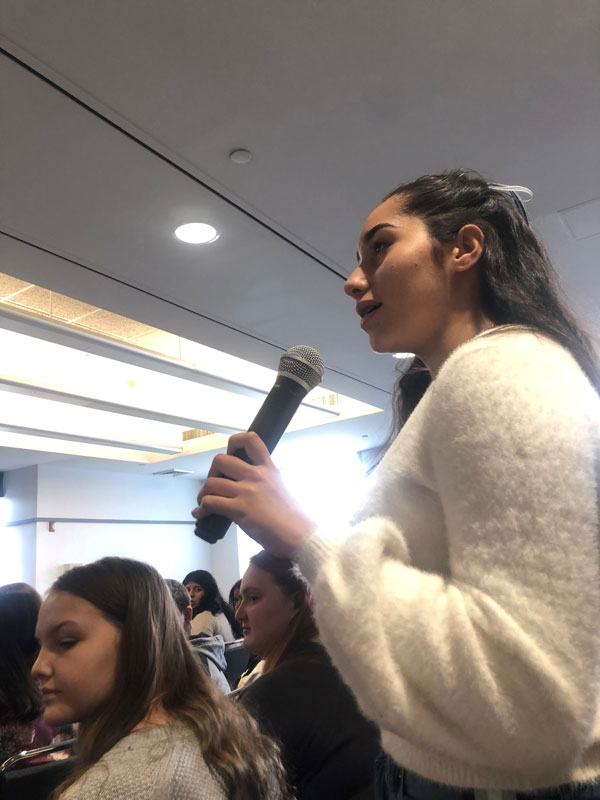 The Huntington AWOD members were impressive at the ERASE Racism conference.
Six Huntington AWOD club members were accompanied by faculty advisors Suzi Biagi and Camille DeCanio. The conference's goal was to train student leaders so they can go back to their high schools and communities and make a difference.
"They are an amazing group of people committed to make a difference through education, inclusive housing programs and civil rights monitoring," Ms. Biagi said. "Activities included a treasure hunt (scavenger hunt) exploring the myths and impact of race, a panel of students who sit on the ERASE Racism student task force, small breakout sessions, activity planning and a district brainstorming session. In the end, all the hopes, ideas and action steps were shared."
The six Huntington teenagers impressed everyone. "These six kids were phenomenal today," Ms. Biagi said. "They shared, networked, explored and embraced the wealth of information that they were exposed to today. I guarantee these young AWODs will be game changers in the near future. Camille and I could not be more proud of them."
Huntington Principal Brenden Cusack supported AWOD club members' participation in the session. "It was a real eye opening experience," senior Alexa Aviles said.
"The forum challenged young people to think about race not as biological, but rather as a social construct," according to the organization.
"Today's trip was fun because we got to interact with others and learn more on how we can make our community more comfortable for others around us," sophomore Yanira Rivera said.
The Huntington AWOD club promotes anti-bias and diversity programs that allow students to better understand the issues of prejudice and bigotry as well as providing a forum for exploring diverse viewpoints.
AWOD club members were pleased to have had the opportunity to participate in ERASE Racism's workshop. "What I learned today was that 'race or ethnicity may separate us, but we have the power to unite,'" sophomore Naysa Escobar said.
Some of the Huntington teenagers weren't really sure what awaited them when they arrived at St. Joseph's College for the seminar. "I came into it not knowing what to expect and I left with an open mind and a new look at life," sophomore Joseph Tropeano said.
AWOD has a very energetic membership, not unlike past years. Everyone down to the last member wants to change the world if they can.
"The ERASE racism program was truly an amazing experience," junior Brianna Isaza said. "I learned so many new ways and ideas how I can help enhance our community as minorities. Overall, the program made me look at things through different perspectives when talking with other students my age from different schools on Long Island. I'm so thankful for Ms. Biagi and for Mr. Cusack for allowing me to attend to a program like this. I can't wait to share these ideas with our community."
ERASE Racism has been sponsoring leadership training workshops for many years. They remain popular as the recent one in Patchogue proved. "Students discovered how years of discriminatory public policies and practices have created racial disparities that are often wrongly attributed to aptitude rather than differences in access to opportunities. The participants discussed current topics such as affirmative action, the concept of 'post-racialism,' the benefits of diversity and the continuing problem of housing discrimination."
As the Huntington group headed home, students and advisors discussed the session. "I learned so many things," sophomore Manuel Aviles said. "This trip was an eye opener. It was very informative."