November 12, 2019
They came oh, so close. The Huntington football team came from behind to take the lead late in the fourth quarter only to see host North Babylon stage their own rally and score what proved to be the winning touchdown with 49 seconds remaining in a Suffolk Division II playoff game last Saturday afternoon.
The 19-14 loss stunned Huntington, which appeared to be on the cusp of pulling off an upset of the highly regarded Bulldogs.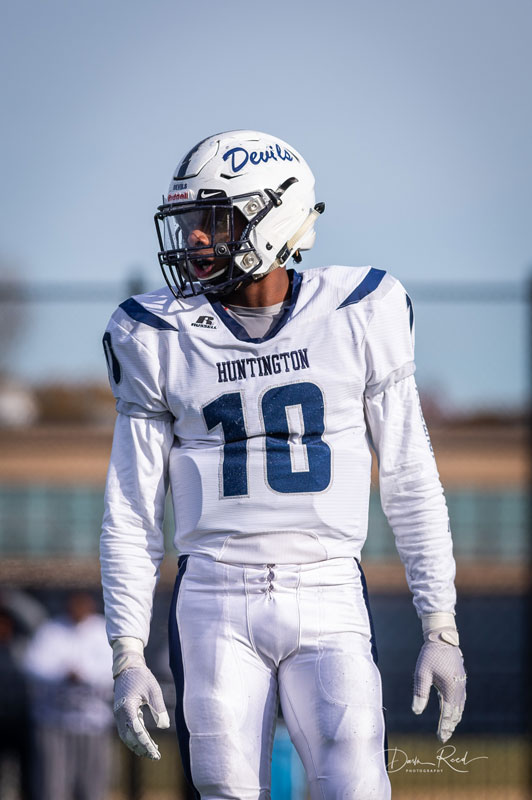 Huntington senior Jaylen Bush made seven tackles at North Babylon. (Darin Reed photo.)
Huntington (5-4) scored early in the game when Nasir Youngblood raced 46 yards for a touchdown. North Babylon (7-2) tied the score at 7-7 on a four yard run by Dylan Diaz with about one minute remaining before halftime.
The game stayed knotted through three quarters as neither team could gain an advantage. The Bulldogs finally went ahead 13-7 on a 39 yard touchdown pass from quarterback Ross Tallarico to Diaz. Huntington managed to block the extra point, which almost proved crucial.
The Blue Devils quickly responded with 36 yard pass completion to Josiah Melendez and a winding 10 yard touchdown trek by Youngblood. Placekicker Aedan McDonald successfully converted the extra point to give Huntington a 14-13 advantage with less than five minutes remaining.
Several big defensive plays and a costly penalty set up a fourth-and-19 for North Babylon, which had no choice but to go for it. Tallarico fired a pass to Justyn Ortiz for a 30 yard gain and a first down to keep the drive alive. Another long pass completion for another first down brought the Bulldogs to within striking distance.
Tallarico's 18 yard touchdown run with less than a minute remaining put North Babylon ahead to stay, 19-14 and left the Blue Devils stunned with the turnaround. Huntington got the ball back but fumbled it away. The Bulldogs then ran out the clock to claim victory and advance to the divisional semifinals.
"It was a tough game and we fought to the very end," said Huntington senior Lex Colato, who played well on both sides of the ball. "My brothers battled today. Even though we lost, they'll be my family forever. I love the Blue Devils."
The loss hit Youngblood hard. He ended his junior season with 1,262 yards rushing and 17 touchdowns. "I feel like it was actually a good game," he said. "I just hate the fact that I made mistakes. I feel that I let my seniors down and sadly we lost. But my teammates and I played until the end and gave it our all. We could have done a little better with no mistakes, but no one is perfect."
It marked the final game in a Blue Devil football uniform for seniors Gary Barash, Jaylen Bush, Vincent Caravetto, Lex Colato, Chas Forte, Andy Garcia, Jack Jamison, Jon Koumas, Pat Langton, Aedan McDonald, RJ Moreno, Aidan Mrotzek, Tazadon Smith and Rahliek Thomason-Jackson.
There is no arguing that the loss stung the Blue Devils, who played what might have been their best game of the year against a very good opponent.
Koumas led the team defensively with 15 tackles. Bush and Caravetto had seven tackles each. Gary Barash and Colato both recorded six tackles. McDonald also made six tackles and he blocked three kicks.
"I feel that we fought to the last whistle," Bush said. "It was a tough loss, but at the end of the day, I know I went into battle with my family. Overall, it was a great team effort."